July 14, 2017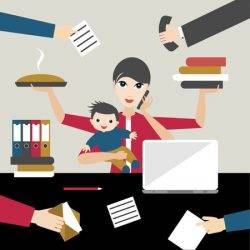 New research claims that just 12 percent of working mothers take a full year's maternity leave and almost one in five (18 percent) take four months or less. The research claims that almost half (44 per cent) of working mothers were unhappy with how they had been treated by their employer during their pregnancy and after their return to work. While many mothers return for financial reasons or simply because they want to, many worry about being side-lined, edged out or feel pressure from their boss to go back. The survey of 2,000 working mothers by law firm Slater and Gordon found that almost a third (30 percent) felt their managers wouldn't have supported them staying off for any longer, and thirty-nine per cent weren't sure their job would be waiting for them when they went back.
The firm claims that treating female employees unfavourably while pregnant or on maternity leave is unlawful, but sadly still a real problem. The research went on to find one in 10 (11 per cent) mothers say they cut it short because they feared taking more time off would damage their career.
Although every woman is entitled to 12 months maternity leave, only 12 per cent of women actually take the full year allowed by law. Whilst on leave, almost one in five (19 per cent) regularly took calls and checked emails relating to work and 17 per cent went into their workplace – on average once a week. Even on their return, more than a third (36 per cent) said their role had changed and eight per cent had found themselves at risk of redundancy.
Forty-two per cent say attitudes changed as soon as they announced they were pregnant, with one in 10 experiencing inappropriate behaviour or comments from colleagues. Within the survey one woman described how she was denied extra help because it was 'her fault for getting pregnant,' while others were criticised for taking 'free' time off.
Employment lawyer from Slater and Gordon, Harriet Bowtell said: "Unfortunately discrimination towards pregnant women in the workplace is still very much apparent. All pregnant employees are entitled to 12 months maternity leave – it is unlawful discrimination to be treated unfavourably because a woman is pregnant or because she is taking maternity leave. Women shouldn't have to put up with inappropriate comments or behaviour regarding their pregnancy, if it happens they should immediately talk to their line manager or human resources. Women should act fast if they can – they only have three months to enforce their legal rights from the date of the act of discrimination, if they have to do that."