November 11, 2019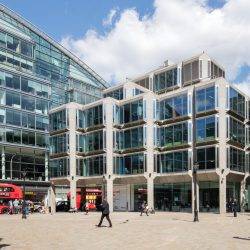 The UK's largest commercial property company, Landsec, has announced that it plans for its 24 million square feet portfolio to achieve net zero emissions by 2030 in line with the Paris Agreement on climate change. Landsec, which has a £13.8 billion portfolio of office, retail and leisure property in the UK, including its flexible office arm Myo (pictured), has had its updated greenhouse gas reduction target approved by the Science-Based Target Initiative (SBTI).
At the start of 2019, Landsec's existing sustainability strategy in place since 2017 meant the company had reduced its carbon footprint by almost 40 percent compared to  2014. However, since the original SBTI target was set, firms have been encouraged to adopt emissions goals in line with a 1.5C target and in February the SBTI tightened the criteria for its targets in line with the latest scientific warnings about climate change. Landsec's new target to cut absolute carbon emissions by 70 per cent from a 2014 baseline over the next 11 years has now been approved by the SBTI, meaning the business will become net zero carbon by 2030.
In order to achieve this the firm will include a 'shadow price' to account for the carbon in each of its commercial property investment decisions as well as replacing a range of construction materials such as traditionally manufactured steel and concrete with recycled and low carbon material such as timber. The firm will also install photovoltaic cells wherever possible and set an energy reduction target of 40 percent across its portfolio by 2030.
Landsec claims it is already implementing these measures across its existing portfolio and new properties, with its first net zero building planned for an 130,000 square foot office development in the London Borough of Southwark. Another 400,000 square foot office development in Southwark will be constructed using a steel and timber hybrid structure, saving 6,000 tonnes of carbon compared to traditional design, which would use more steel, the firm said.
"Landsec's net zero target may be set at 2030, but we're making tangible changes to the way we do business now," said Landsec's director of corporate affairs and sustainability, Caroline Hill. "We're progressing our first net zero building at 105 Sumner Street, we have solar PV installed on nine of our assets and we have set a new and stretching science-based target."