December 16, 2020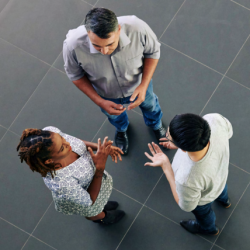 Only 46 percent of employers plan to hire a young person between the age of 16 and 24 in the next year despite new Government incentives to do so, a report from the CIPD suggests. Over 1,000 employers were surveyed for the CIPD's COVID-19 and the youth labour market report which examines the likely impact of new incentives to boost provision of traineeships, apprenticeships, and six-month work placements through the Kickstart scheme – as outlined in the 'Plan for Jobs', which was presented to Parliament in July 2020.
The report claims that most employers have, so far, poured cold water over the Government's plans, with the response to incentives for traineeships (a £1,000 bonus for each new learner taken on) and apprenticeships (organisations who hire a young apprentice will receive £2,000 or £1,500 for hiring an apprentice aged over 25) being particularly poor:
Just 8 percent of organisations who were not planning to offer traineeships before are considering doing so now.
Just 6 percent of organisations previously planning traineeships are looking to now scale up their programme.
Just 5 percent of employers who were not planning to recruit apprentices responded that they were considering it now
Just 7 percent of those who were already planning to recruit apprentices would now be encouraged to recruit additional apprentices.
Low uptake for the traineeship incentive may be due to limited awareness of traineeships more broadly. Despite launching in 2013, a third (35 percent) of employers said they had not heard of traineeships, while only 8 percent claim to have a good knowledge of them. In response, the CIPD says the Government should improve awareness of traineeships amongst businesses to boost engagement and uptake – and to help young people at the outset of their working life.
The CIPD also wants apprenticeship incentives to be more generous and be better targeted at young people and SMEs to stamp out 'deadweight' in the system – where employers, namely larger and public sector organisations, are already planning to recruit apprentices and the incentives have little, if any, impact.
The report goes on to highlight that many employers do not have a strong track record of taking on young people, with a quarter (28 percent) saying they had not recruited an education leaver to a first job in the last two or three years. Those that do favour university graduates over college and school leavers.
The CIPD argues this further underscores the need to increase incentives for apprenticeships if employers are to provide opportunities for young people – and change how they develop their workforce.
Employers had a more positive reaction to the Kickstart scheme, with a third (32 percent) saying they were either very interested, or somewhat interested, in it. The support package – worth £2 billion – is the most generous of the three incentives, with wages being subsidised at 100 percent of the National Minimum Wage and a £1,500 payment per participant to cover associated costs.