March 6, 2019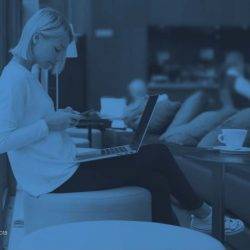 Lenovo has released a study on 'Britain's evolving workplace' (registration). It claims that more than three quarters (76 per cent) of those that have no commute by working from home are overall satisfied with their job and a third (37 per cent) of those surveyed admit to choosing their current role based on its close proximity to their home. The report claims that the changing nature of the modern workplace benefits both workers and employers, with one in ten workers most productive outside of typical 7am to 6pm working hours and a quarter (26 per cent) wishing to work more flexible hours.
Cebr calculates that 15.2 million people – or 57 per cent of UK workers – are in roles that are sufficiently non-physical as to be eligible for remote working. If those workers were to spend the time they commute working, Cebr estimates there would be a £20 billion boost to the UK economy, highlighting how valuable that time is.
One of the largest drivers of the changes in how and where we work has been technology. Two in five (38 per cent) workers who work remotely more often now than five years ago cite improvements in communication technology as one of the reasons behind this. And beyond this, rather than fearing technology and automation, 41 per cent of respondents stated that tech will help them advance their careers.
The impact on businesses
Business leaders indicate that flexible working arrangements can be key to acquiring talent and boosting morale as long as remote-based working arrangements are managed properly. Whilst the report suggests a shift towards more remote working is inevitable and positive, it also warns against assuming staff can seamlessly adapt and learn how to manage people remotely. Training programmes are required for flexible management approaches, ensuring the true potential of remote working is fully realised and that technology is properly harnessed.
Managing people from afar is completely different to managing face-to-face, raising significant concerns over the success of flexible working unless new principles are adopted. Given the technical requirements needed for effective remote working, it is unsurprising that 18 per cent said they would like to see workplace IT equipment updated. Workers expect conference calls and virtual meetings to become more common over the coming five years, with face-to-face meetings being the only form of business interaction that respondents expect to become less frequent.
Nina Skero, Head of Macroeconomics, Cebr, said: "Not only can flexible working boost the economy, businesses really must harness it to help attract and retain talent. Our research with Lenovo shows how demoralising long commutes to and from the office can be. With more advanced technology now at our fingertips, we must seek smarter solutions. It's crucial for businesses to move to introduce these practices, for their own benefit, but also to benefit the economy."