September 19, 2017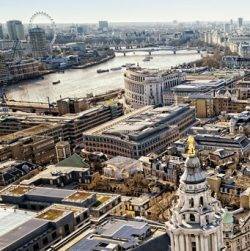 A total of 13.3 million square feet of London office space could be lost to office-to-residential conversions carried out under new Permitted Development Rights introduced in 2013, according to new research published by the British Council for Offices (BCO). This figure comprises of 7.5 million ft² of office space in London which has already been converted to homes since the introduction of the rights, with a further 5.7 million ft² of conversions in the capital having approval. An average of 2 million ft²/year has been converted each year since the rights were introduced in 2013, or 0.7 percent of the total London office stock.
The office development market has historically been able to outrun losses from conversion. Between 2001 and 2015, office stock in England has increased by an average of 7 million ft²/year, while conversions to housing have averaged 2.6 million ft²/year. However, in 2014, an estimated 6,574 homes were created from offices, leading to a loss of 5.3m ft² of office space. The creation of 11,155 homes from offices resulted in a 9m ft² loss of office space in 2015, almost double the figure from the previous year.
The report, Permitted Development Rights: One year on from permanence (paywall), was commissioned by the BCO and carried out by property consultants CBRE. It finds that while Bristol, Birmingham and Leeds have all experienced high levels of notifications to local councils, London remains the city most affected, with 36 percent of all notifications in the capital. Furthermore, a higher proportion of these have been converted compared to the rest of England – London's implementation rate is running at 57 percent, compared to an estimated national average of 50 percent.
Boroughs in outer London have been the most affected. Croydon has seen the most significant loss of office space so far, with estimates indicating that more than 1.3 million ft² over the last 4 years has been converted. A further 750,000 ft² of developments granted prior approval have not yet been converted. Hounslow and Sutton have also been significantly affected, with an estimated 529,500 ft² and 492,625 ft² of office stock lost to conversions to date.
Miles Gibson, UK Head of Research at CBRE, comments on the report's findings: "The new Permitted Development Rights have made a significant contribution to housing supply. However, following its introduction we have seen a decline in office stock in England for the first time in over ten years. There is strong evidence to suggest that this decline is due to these new rights, rather than economic or other regulatory factors.
"There are a couple of reasons why London in particular has seen significant take-up. Heavy use of the new rights in the capital may reflect the fact that certain London boroughs, such as Camden and Islington, have traditionally had strong policies protecting office floorspace from conversion. In boroughs which have historically been protective, great losses are less surprising once that protection has been withdrawn.
"London is also where the housing crisis is most acutely felt. Supply shortages in its housing market make conversion of office premises an attractive choice for landowners with the right stock, especially given CBRE's forecast that UK office capital values in 2017 will fall by -0.2%, compared to a 2% growth in house prices. As such, it seems likely that we will continue to see a growth in conversions in London, as well as the rest of the country."
Richard Kauntze, Chief Executive of the British Council for Offices, added:
"There is no denying that more housing is needed in many parts of the UK, and the conversion of some older buildings which are no longer suitable as offices is a sensible solution. However, once office space is lost to residential development, it is often lost for good.
"This loss means that many businesses will not have access to office space of the right quality, in the right location, to succeed and drive growth. London boroughs such as Richmond upon Thames have already expressed grave concerns about the threat of lost office space, as has the Mayor of London. To ensure future economic prosperity, local authorities must take a more active approach to reviewing and approving notifications from developers in order to protect the workplaces needed by local businesses."