May 5, 2016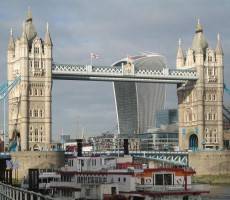 We might all welcome London's success as a thriving centre of commerce and culture, but this comes at a price and we need to look for a better balance than we currently see between London and the rest of the UK. Of course London is often the main victim of its own success. Its thriving tech and creative firms continue to spill out of the incubator districts created for them to find cheaper and more appropriate spaces in which to grow. In doing so they are pushing up rents in such unlikely nearby places as Croydon. In the traditional business districts in the City and Docklands, the capital's tech giants are now able to compete for the first time for some of the most expensive real estate on the planet. To cope with demand, the Mayor is rubberstamping tall buildings like never before, many of them bloody awful, unloved by Londoners and heritage organisations alike, transforming the skyline and creating windswept, arid tundra at their feet.
London exists, as it has done for some time, as a semi-autonomous city state within the UK. It no longer belongs to this country as much as it does to the world and so has a complex relationship with other regions. It generates far more wealth than any other city but also exerts a disproportionate pull on the UK's resources, luring talent from the rest of the country and enjoying far more investment in infrastructure.
This is even true for HS2 in spite of the attempts to link it with the currently half-baked idea of a 'Northern Powerhouse'. The main beneficiary of HS2 will be London, enjoying more economic benefits than the rest of the country combined, which means that it will widen the economic divide, not close it. Its main effect for travellers will be to increase capacity where it is most needed, which means the commuter lines south of Rugby. Crossrail will similarly intensify London's scale and gravity.
The success of London means that many firms and the people they employ are finding it increasingly difficult to justify being there and we are seeing the first signs of a flight. According to Lambert Smith Hampton's annual Office Market Report, cities such as Bristol, Manchester and Birmingham offer staff and premises costs for a new-build office of just over £50,000 per workstation. Measured on the same basis, a workstation in London's Midtown area carries an annual cost of over £80,000. The report predicts that firms will find the draw of lower costs too attractive to justify staying in London.
Their only problem is finding the talent elsewhere so it may be fortunate for them that they're not the only ones questioning the financial cost associated with working in London. The average Londoner living in rented accommodation now spends around a third of their income just on rent. For those lucky enough to buy their own place, they'll find that average house prices are £556,350, more expensive than South East England (£357,016), East of England (£292,004) according to Rightmove.
If the Government is serious about keeping in step with these trends and also relieving some of the pressure on London, it needs to switch its focus. HS2 simply won't do it and is too far off anyway. The Northern Powerhouse remains primarily a vague bit of sloganeering. So it needs to invest immediately in vastly better broadband and local transport infrastructure that focuses on better connectivity in regional centres.
This article appears in the new issue of Mix Interiors