September 19, 2016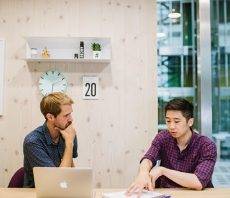 Start-up tech firms in London face the world's highest property costs and the result is a boom in coworking, according to a report from Knight Frank. The research, undertaken as part of Knight Frank's 2017 Global Cities Report, examines the cost of leasing and fitting-out 600 sq ft of office space in the tech and creative districts of the world's leading cities. Intense demand for space in Shoreditch, London, has seen start-up office costs soar with Knight Frank calculating 600 sq ft of office space to cost US$66,706 per year – the highest of any creative district in the world. This is followed by Brooklyn in New York (US$62,736), Mid-Market in San Francisco (US$61,680), 1st, 2nd and 9th Districts in Paris (US$57,426) and the Seaport District in Boston (US$50,700). However, London's burgeoning coworking market also shows how firms are using the model to overcome the challenge of finding somewhere to work at an appropriate cost.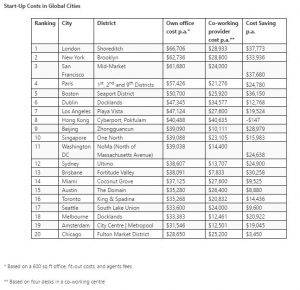 Knight Frank's analysis claims that the Shoreditch district of London offers the greatest cost saving for tech businesses that opt to locate in coworking spaces. The cost of occupying four desks in a co-working space in Shoreditch is US$28,933 per annum, a saving of US$37,773, or 57 percent, versus traditional office space. It is followed by San Francisco's Mid-Market district, where the the annual saving would be US$37,680, and Boston where co-working provides a US$36,150 discount on the cost of traditional office space.
The cost differential is less pronounced in emerging tech and creative districts such as those areas in Austin and Seattle, where companies would pay less than $10,000 per annum more for office space than they would for coworking space.
Emerging tech and digital districts such as 'Silicon Docks' in Dublin and The Domain in Austin offer lower start-up costs at US$47,345 and US$35,280 respectively. Similarly, South Lake Union in Seattle, where Microsoft and Amazon have a large presence, also offers affordable office space for start-ups at US$33,600.
James Roberts, Chief Economist at Knight Frank, said: "As we head towards Brexit, tech start-ups are the sort of firms the UK will be looking to for future growth. So it is disappointing to discover London is such an expensive place for them to rent business space, at least if they want their own offices. Collaborative offices are consequently playing a vital role in offering affordable business space, but for start-ups to move to stage two as companies, they will ultimately need their own offices. London needs to be more affordable for tech firms if it wants a home-grown Google or Twitter."
James Nicholson, Partner, Knight Frank Tech, commented: "This study illustrates that co-working has an important role to play in supporting the next generation of innovative tech companies early in their life cycle. These businesses are highly mobile, and mature markets such as Shoreditch and Brooklyn – having worked so hard to cultivate tech clusters – risk being overtaken by other locations if they cannot provide affordable workspace."
Image: Central Working