October 25, 2017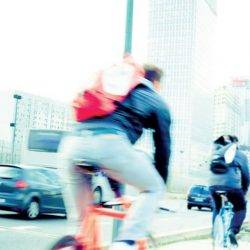 A twenty minute increase in commuting time is as bad as a 19 per cent pay cut for job satisfaction, a study has found. The research by the University of the West of England found that every extra minute spent travelling to and from work reduces job and leisure time satisfaction, increases strain and worsens mental health.  The researchers conclude that more people should be allowed to work from home or should choose a new way of getting there. According to the study, every extra minute spent travelling reduced job satisfaction, created extra strain, worsened mental health and increased people's chances of quitting. The study, based on analysis of 26,000 workers in England, found that people travelling by bus were more likely to feel the "negative impacts of longer commute times" than users of other transport and that employees who cycled or walked were among the most satisfied as they used commuting time as part of their "health-enhancing lifestyle".
Conversely, longer train journeys were less stressful than shorter ones because commuters were "better able to use their journey time productively". Workers with shorter rail journeys tended to use more crowded and stressful urban lines, researchers said. The study, led by Kiron Chatterjee of UWE,  also found that women were hit harder by commuting, which was "likely to be related to greater household and family responsibilities". Younger workers, and people on lower incomes, were less badly affected by long commutes, which could be down to "an acceptance amongst these groups that long commute times are unavoidable," researchers suggested.
The average commuting time per day in England has risen from 48 to 60 minutes each way over the past two decades. One in seven commuters now spends at least two hours a day travelling to and from work. The researchers called on bosses to give more people the option of flexible working, including from home. In England average commuting time per day has risen from 48 minutes to an hour, and one in seven commuters are now spending two hours or more each day travelling to and from work.
Long journeys by bus were associated with the biggest reduction in job satisfaction, while walking to work or working from home increased job satisfaction, and cycling to work also improved employees' perception of their own health. Women said longer commutes had more impact on their job satisfaction than men did, researchers found.
This is likely to be "related to greater household and family responsibilities. Walking or cycling to work are positive options to address this for women, as these options are found to increase their leisure time satisfaction," the study said.
While job and leisure time satisfaction were reduced by longer commutes, overall life satisfaction did not fall because workers "take on longer commutes for good reasons relating to improving their employment, housing and family situations and these factors serve to increase life satisfaction.
"This does not mean that the negative subjective wellbeing impacts of longer commutes can be disregarded. The acceptance that a long commute is a price to pay may only persist if it is considered unavoidable and a social norm," said Dr Chatterjee. "An important message for employers is that job satisfaction can be improved if workers have opportunities to reduce the time spent commuting, to work from home, and/or to walk or cycle to work – such commuting opportunities are likely to be good news for employee wellbeing and retention and hence reduced costs to businesses."