September 12, 2017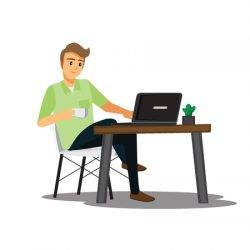 The majority of North American office workers expect their employers to provide technology that allows them to work from wherever they choose and three quarter of employees (74 percent) would rather leave their job to work for an organisation that would allow them to work remotely more often, even if their salary stayed the same. This is because working remotely has moved from being a work perk to a necessity of 21st century living, claims a new study by Softchoice. Collaboration Unleashed: Empowering Individuals to Work Together from Anywhere, found that 85 percent of North American office workers expect their employers to provide technology that allows them to work from their desk, in a meeting room, at home, or the coffee shop down the street.
The study also identified that, compared to Baby Boomers, millennials are twice as likely to feel more productive and better-equipped working at home than at the office. On top of that, the vast majority (88 percent) of millennials believe their employer should equip them with the technology to work remotely.
However technical issues are ruining collaboration, for while 83 percent of employees use technology to collaborate in real time with people in different locations, 78 percent of them say they experience frequent technical difficulties that impact the collaborative experience.
The research also found that while increasing automation boosts productivity, but scares some workers. While 69 percent of employees say office automation tools have positively impacted their productivity, nearly one in four workers feel their job is in danger of being replaced entirely by technology within five years.
"It has never been more challenging, but also more important, for organizations to deliver what employees want," said Francis Li, Vice President, Information Technology, Softchoice.
"Cloud, mobile and unified communications technology continues to break down siloes and help employees to be more productive and collaborative from wherever they do their best work. As a result, what employees increasingly want is a seamless experience where they can access content, connect with colleagues and share files, and be productive from anywhere."
For the study, Softchoice surveyed 1,000 full-time North American office workers who use a computer or mobile device for the majority of their work day. The study explores trends in employee productivity and collaboration, including the use of office automation tools, remote work flexibility, and how well organizations equip their people with the technology they need to be productive.
To view and download a copy of the full Collaboration Unleashed study, click here: