September 18, 2015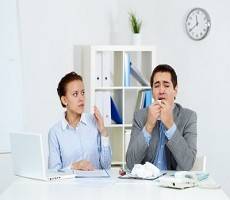 Debates around presenteeism tend to revolve around staff checking their emails while on holiday, but another potentially more destructive behaviour is that of the worker who reckons they're so indispensable they insist on coming into the workplace when they're ill. In a recent survey, 89 percent of workers said they had gone into work when they were not well, which is why it is hardly surprising that almost three quarters (71 percent) of employees have reported catching an illness from a sick colleague. According to the research by Canada Life, almost a third (32 percent) said their workload was too great for them to take time off for illness, and 80 percent would not take time off for stress-related illnesses. Employees were also worried about being perceived as lazy (13 percent), inconsiderate (10 percent) and weak (10 percent) if they took time off for a short-term illness.
Nearly a quarter, (21 percent) worried about the financial implications of calling in sick and 13 percent did not feel secure enough in their job to take time off.
Almost half of the 1,000 workers surveyed said (49 percent) said they would not take time off if they had the flu, while 36 percent would not take time off if they had a stomach virus, even when experiencing symptoms of sickness and diarrhoea. Around one in eight (13 percent) employees said they would have to be hospitalised and had no other choice before calling in sick.
Canada Life Group Insurance marketing director Paul Avis said: "Particularly concerning is the seemingly low value employees place on mental illnesses, with far too many willing to come into work.
"At a time when recruitment and retention is increasingly crucial, ensuring employees feel valued and secure is a vital element to this.
"Employers should have a clear sickness absence system in place to assure employees they will not be penalised or face any recrimination for taking time off when they are genuinely unwell."