May 14, 2013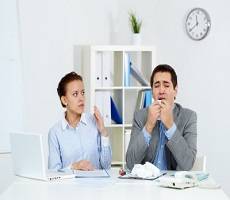 As we reported last week, the UK workforce is suffering from a bad case of presenteeism, but unfortunately for those valiant employees who drag themselves into the office despite being genuinely sick, it seems the majority of their workmates would prefer they didn't bother. According to the latest research on the issue, this time from Capita Employee Benefits, over three in four (78 per cent) recognise that colleagues who are genuinely sick should stay at home until they get better for the benefit of both themselves and those around them.
Capita's research of over 3,000 people in full or part-time employment found that over two thirds (70 per cent) of UK workers say it is becoming increasingly common for people to attend work while unwell, with the majority (59 per cent) saying they personally feel more pressure to go to work while ill than they used to.
Robin Hames, head of marketing for Capita's employee benefits business, said: "Far from being a nation of skivers, this research shows UK employees are feeling pressure to work while they are unwell – potentially putting their own and their colleagues' health at risk.
"Whether this pressure is real or imagined, articulating a sensible approach to health and absenteeism helps avoid encouraging potentially infectious people into the workplace."
The research also found that 63 per cent of respondents went to work the last time they were ill, while almost half (47 per cent) are worried what their employer will think of them if they take time off to visit their doctor or dentist.
As Hames points out – presenteeism – coined to describe being at work while unwell or out of hours – has gained momentum during the economic turbulence of recent years but being present doesn't always equate to being productive.
He recommends taking more of an integrated approach to workplace health that goes beyond being a good corporate citizen; it can improve the impact of health management programmes, reduce costs and support productivity.
"Rates and reasons for absenteeism and, indeed, presenteeism, vary between sectors but strong management data and technology can support sustainable attendance levels and help to manage any health or business continuity impacts before problems escalate."