September 9, 2021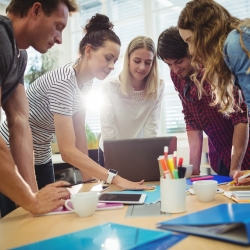 New research from Kadence claims that since working from home, Gen Z and Millenials feel disproportionately isolated, and say it is negatively impacting their ability to build and develop relationships at work – and potentially harming their career progress.
The survey of 2,000 US and UK office workers claims that over two-thirds of workers aged 18 – 34 (67 percent) say since working from home, they've found it harder to make friends and maintain relationships with colleagues.
Almost three quarters (71 percent) feel their work colleagues are more distant, and 54 percent even say that prolonged remote working has caused them to drift apart from workmates.
When asked how they would feel about continuing to work remotely on a full-time basis, this age group also expressed concerns about being lonely: 81 percent of younger workers say they would feel more isolated without time in the office, compared to 64 percent of those aged over 35.
The older generations have noticed less of an impact on their work relationships over the past year. Almost a third of respondents aged over 35 say their ability to make friends or maintain relationships with colleagues has not changed since working remotely (31 percent).
The research from Kadence also suggests that continuing to work from home is likely to exacerbate the social disconnect for younger workers and negatively impact their productivity levels. One in seven (70 percent) fear they will miss out on opportunities to socialize if it becomes permanent, a situation which would result in them enjoying their job less (59 percent) and finding it harder to focus (63 percent).
Jonathan Taylor, Managing Psychologist at workplace psychology consultancy, Pearn Kandola, says: "While it's important not to stereotype based on age, older workers usually have more years of affirmation from colleagues they can draw upon in remote and hybrid settings, while younger, potentially less experienced workers are in many cases still building up a repository of 'am I good enough?'. It takes time to build up a sense of self-efficacy, and much of this comes from communication and feedback from others – this is not only what is said, but micro-behaviours too. Submitting a piece of work over email while working remotely and not hearing back is likely to have its impact.
"Having control over your work is important for development, and so giving employers a degree of choice over remote or hybrid working is vital. As a manager, checking in with employees and being able to notice when team members are struggling should be a priority, regardless of your working setup."
"As a manager, checking in with employees and being able to notice when team members are struggling should be a priority"
When asked about the benefits they'd look for in a new role, hybrid working was listed as a top priority for all workers, with more than a third (38 percent) seeking this type of set-up. Flexible working hours were also seen as crucial by 42 percent of all workers.
However, it's clear that the social element is an important driver in productivity and happiness for Gen Z and Millennial workers. Over a quarter (29 percent) listed regular social and team building events as one of the most attractive employee benefits, alongside a good salary (44 percent), modern office environment (40 percent), wellbeing support (40 percent), and career growth and ongoing training opportunities (38 percent).
Meanwhile, for workers aged over 35 the social element is less of a contending factor when it comes to job appeal. This generation of workers look for a good salary (58 percent), generous holiday (51 percent), flexible working arrangements (50 percent) and an enhanced pension (43 percent).
Dan Bladen, CEO of Kadence adds: "There's no doubt that the pandemic has shaped the future of work; but more than this, it's had a fundamental impact on the happiness and wellbeing of workers. While organizations have done their best to adapt, we've yet to experience the full consequences, particularly when it comes to the next generation of workers.
"100 percent remote working might be convenient for some, but for others it's a recipe for loneliness – and younger workers have been disproportionately affected. They're missing out on the benefits of being surrounded by more experienced colleagues and the informal learning and mentoring that comes with this. What's more, these younger workers are now quitting if they're not happy. Every employer's top priority should be to create the best workplace experience they can for their teams. Ensuring that true hybrid working between home and office is enabled will empower workers of all ages, while ensuring that businesses recruit and retain the very best talent."
Image by Sanu A S