March 11, 2019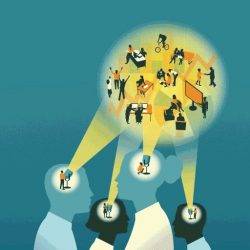 A study conducted by The Oxford Group (registration) claims that companies are struggling to adapt to a digital workplace as leaders lack the critical digital skills they need to transform the organisation. Whilst 96 percent of respondents said the onus is on leaders to drive the adoption of new technologies and 94 percent believe it's important for leaders to challenge traditional ways of thinking, only a third (33 percent) of leaders feel well prepared to lead their business. Gaps in leaders' digital skill-sets are having a major impact on their ability to transform; 41 percent say that a lack of digital expertise makes decision-making more difficult, and 30 percent say it has prevented their team from innovating.
The challenge goes beyond leadership. 60 percent of employees at all levels say that staff at different levels of their organisation lack the skills needed to propel their business into the digital age. Respondents outlined how their organisational infrastructure is also limiting digital transformation, whether that's the challenge of managing security and the risk of data leaks (45 percent are concerned), tackling the fear of change to roles and routines (42 percent), or reskilling the workforce (31 percent).
Whilst lacking confidence in the digital skills of colleagues and senior leaders, both management and the wider workforce realise the benefits of being digitally adept. 80 percent of those surveyed said leaders with good digital skills are able to communicate more effectively with employees and clients, and 71 percent said strong digital skills help staff progress more quickly. Employees show a clear appetite to learn, with half of those surveyed (48 percent) saying their careers would benefit from further training on the technology and systems in their business. Beyond the technical skills, 41 percent said they would value coaching or guidance on how to perform and communicate more effectively in an era of digital transformation.
Commenting on the findings, John Yates, MD Corporate Learning of City & Guilds Group, said: "Digital transformation is seeding itself in all aspects of our lives as we continue even further into the fourth revolution. Businesses, C-suites, and employees need to adapt their attitudes and behaviours to meet the changing demands of the workplace. The critical skills of today are much different to those that were needed a decade and even a few years ago, and will differ from those needed tomorrow and into the future. New technologies and learning tools can make it far easier to adapt, but only where there is consistency and buy-in from employees across organisations.
"As far as leaders' responsibilities in the era of digital transformation, the research highlighted that 81 percent of workers think it's important that senior management recognise and are open about the fact that they do not have to know everything, which can feel counter-intuitive when we think about traditional perceptions of leadership.
"It is clear that when it comes to leading effectively in the digital age we are in, attitudes need to shift. Leaders need to set an example by learning new skills – whether that's about how to empower employees to make changes, or developing their own digital capabilities – and ultimately create a learning culture where everyone recognises that learning is an ongoing, gradual process regardless of where they are on the career ladder."