May 27, 2019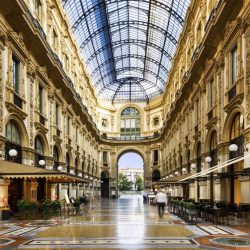 Milan has been named the 2019 Wellbeing City as part of the Wellbeing City Award, which claims to be the first global award recognising city-led action. Five Award Laureate Cities have been announced as part of the Award and will be honoured at The Wellbeing Cities Forum in Montréal on June 19, 2019. The annual Award has been developed by NewCities in partnership with the Novartis Foundation, the Novartis US Foundation, and in collaboration with the City of Montréal, Toyota Mobility Foundation, Transdev, and the US Green Building Council.
Milan was selected for its innovative civic crowdfunding project. In addition, four other cities have been announced as 2019 City Laureates within their categories:
Community: Santa Monica, USA for the Wellbeing Index
Economy and opportunity: Pune, India for The Lighthouse project
Public health: Kigali, Rwanda for the Kigali Car Free Day initiative
Sustainable environment: Lisbon, Portugal for the Pedestrian Accessibility Plan.
Well ecosystems
John Rossant, NewCities founder and chair, said that to truly thrive, cities must become "ecosystems for wellbeing" through their planning, policies, and initiatives. "The initiatives are increasing social cohesion and inclusiveness in different areas: from care services to regeneration of dismissed areas, and from sectors ranging from art to education. Older cities are being refashioned and recast as havens of wellbeing, while new cities are increasingly placing people's wellbeing at the heart of their planning processes."
A formal ceremony acknowledging the winning City and other Laureates will be held at The Wellbeing Cities Forum in Montréal on 19-20 June. NewCities sets out to recognise the most progressive and innovative ideas that "drive positive changes in cities large and small through events, research and urban innovation projects. The organisation works with leaders from business, government, academia, civil society, the media and the arts."