November 24, 2016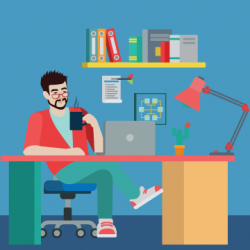 Organisations that offer a range of perks, flexible hours and contract work to attract younger workers may be wasting their time, as it seems millennials prefer a more traditional approach to that of the gig economy. In a survey by the US-based Career Advisory Board of 500 respondents representing a diverse sample of American workers, 91 percent of the millennials surveyed reported they would like to work at a single full-time job rather than embrace the gig economy and 81 percent overall said they would prefer a single position that's full-time. Of the 81 percent of respondents of all ages who'd prefer a single full-time position, an overwhelming number didn't mind going into an office, but would like some location flexibility (59 percent). Most surprisingly, millennials were more likely to want to work in an office every day than their older colleagues. And as for special perks like onsite food, wellness perks and day-care, less than 1 percent of respondents preferred special company perks to the more crucial benefits such as medical/dental plans, paid time off and retirement benefits, which rated the most important offerings after competitive salary.
"The survey results show us that businesses today need to be good employers, offering stable employment with competitive base pay and traditional medical and retirement benefits," said Alexandra Levit, business and workplace consultant and Career Advisory Board member.
"The average American worker isn't necessarily looking for all the bells and whistles."
Key Findings also included:
Twenty-two percent of respondents said they prefer to go into an office every day, while 18 percent said they'd like working from home all the time. Millennials were more likely to want to work in an office every day than their older colleagues (27 percent).
A majority (56 percent) of respondents said they prefer a job with "authority to make decisions that impact the entire organization," and 36 percent said they still prefer to work for a single manager within a hierarchical structure.
Eighteen percent said they enjoy working for a variety of managers in a matrixed structure, and only 11 percent of respondents said they prefer the holacratic style, in which there are no official managers and everyone's input is valued equally. Millennials, interestingly, were only a little more likely to say they prefer matrixed or holacratic reporting structures.
Respondents slightly preferred jobs that were exciting (57 percent) to predictable (43 percent), and were equally enthused by fun (50 percent) and challenging (50 percent) work, but they overwhelmingly preferred jobs that were stable (84 percent) to risky (16 percent). Even 78 percent of millennials, who are associated with job-hopping, said they prefer a stable job situation.
The long-standing power of compensation should not be forgotten by employers seeking to attract and retain the best talent. "According to the survey, compensation is still a top consideration for job applicants," said Madeleine Slutsky, chair of the Career Advisory Board and vice president of career and student services at DeVry University.
"Likewise, in order to stay competitive in the marketplace, companies should continually evaluate how they reward and compensate employees in order to retain top talent."