April 21, 2016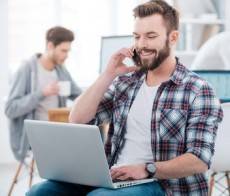 The future is here. Millennials, the youngest generation in the workforce, are now the majority generation at work. Their potential impact has been discussed for decades, but we're finally seeing results, as this generation not only enters the workforce, but assumes management-level roles, makes their voices heard, and shifts how we approach work. But why does the Millennials attitude and approach to work have such an impact on how, when, where, and why we all work? And why should employers pay attention? It's because this generation is shaping remote working. They've got sheer numbers behind them. In 2015, Millennials surpassed Generation X to become the largest generation in the American workforce. The vast majority of Millennials want flexible work options, especially the ability to work remotely. In survey after survey, Millennials, more than any generation previously, say that work-life balance and remote work is important to them.
The oldest Millennials are roughly 34 years old, starting and raising families, and understanding some of the very real sacrifices that have to be made when their workplaces aren't flexible.
The younger Millennials, fresh out of college, see flexible work as a natural way to work. They're used to getting work done from wherever works best for them. If they attended college, they, more often than not, "worked from home" (a.k.a., their dorm rooms) to complete homework, rather than going to the college library.
It's not just that they think remote work sounds nice; they've been living the remote and distributed work lifestyle for most of their lives. As working professionals, they've transferred that mentality–working wherever makes sense–to their professional lives.
Consider these stats from a survey of Millennials from FlexJobs, conducted in 2015:
85 percent want to telecommute 100 percent of the time
54 percent want to work a flexible or alternative schedule
50 percent would be okay telecommuting some of the time
47 percent prefer to work a part-time schedule
39 percent want to be freelancers or contractors
Look at the huge difference between the percentage of Millennials who want to work remotely all the time versus all other forms of flexible work. It's clear that remote work is the preferred work-flex choice of this generation.
Millennials have different priorities for their lives than previous generations
As Workplace Insight reported earlier this year, three-quarters of Millennials will change jobs in the next five years. Employers that, "encourage a work/life balance, provide flexibility that allows Millennials to work where they're most productive, [and] give them more control over their careers… will be most successful in retaining Millennial employees".
And when it comes to why they work, Millennials have a decidedly different view of the role work should play in their lives.
84 percent want more work-life balance
53 percent work because they enjoy working
50 percent of Millennials work because they are passionate about their career
Only half of Millennials say they work because they're passionate, or because they enjoy working. Without that passion or enjoyment, employers need to tap into what makes Millennials want to keep working for them, and work flexibility is a big factor.
Employers that embrace remote work and other types of flexibility will win the talent race
Large and well-known companies like Dell, Deloitte, and UnitedHealth have all created formalized remote work programs, to the benefit of their employees and the bottom line. Small and mid-sized companies are also following suit, embracing the idea that remote work can support overarching business goals and create a better work environment for employees.
Rather than see this transformation of the workplace as the overindulgence of a young or inexperienced generation, smart employers know that remote work isn't just a passing phase, but a real solution for some of their overarching business goals and objectives. Whether it's to reduce overhead costs, have a lighter carbon footprint, attract better talent, or expand into new territories, remote work holds a lot of benefits for the companies that take it seriously.
__________________________

Sara Sutton Fell is the CEO and founder of job site FlexJobs and founder of Remote.co and the 1 Million for Work Flexibility initiative. She was named as a Young Global Leader (class of 2014) by the World Economic Forum for her work in technology and the employment fields. Sutton Fell is a graduate of UC Berkeley and currently lives in Boulder, Colo. Sutton Fell is also the creator of The TRaD Works Conference.