July 21, 2022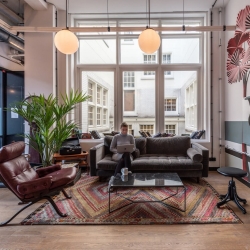 Mindspace is opening its first location in Düsseldorf: the flex office provider is moving into 4,100 square meters in the centrally located mixed-use commercial complex "Stilwerk" on a long-term basis. The location "Mindspace Grünstraße" will include 600 workstations overlooking an attractive atrium and will include the numerous Mindspace benefits and amenities such as meeting rooms, lounges and kitchens. Mindspace Grünstraße is scheduled to open in February 2023.
Centrally located in the old town, not far from Königsallee, "Stilwerk" combines retail, offices, gastronomy and lifestyle under one roof: international premium brands are represented in more than 30 stores on 17,000 square meters. Since opening in 2000, the property has become a striking hotspot, due not least to the architectural appearance of the building itself.
The "Stilwerk" has five floors and an elliptical floor plan with a glass roof that can be opened on warm days. The interior of the building is designed as an open atrium with galleries running around it. The space occupied by Mindspace in the "Stilwerk" will have a view directly into the atrium, providing a unique work experience in the heart of Düsseldorf.
"The new location in Düsseldorf brings our portfolio in Germany to a total of 11 spaces. We recently signed two new locations in Berlin: Mindspace Zimmerstraße – which opened earlier this month – and Mindspace Ku'damm – scheduled to open in September; Mindspace is on a growth trajectory. We are meeting a sharp increase in demand for flex office solutions; our occupancy rate in Germany is currently over 95 percent. We look forward to bringing the Mindspace brand and expertise to Düsseldorf" says Oliver Lehmann, General Manager Mindspace Germany.
"Düsseldorf is an internationally important business and financial center, known for its fashion and art scene. With its mix of attractive offerings, modern architecture and central location, the new location at Stilwerk is an excellent fit for the Mindspace concept," explains Lehmann.
Mindspace Grünstraße at Stilwerk in Düsseldorf becomes part of the company's locations in 19 cities worldwide: Berlin, Munich, Frankfurt, Hamburg, London, Amsterdam, Warsaw, San Francisco, Philadelphia, Tel-Aviv and more.