May 11, 2022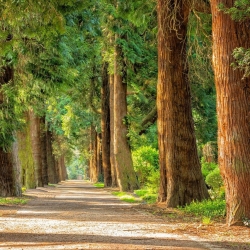 The UK Green Building Council (UKGBC) has launched a new framework to help organisations and planners to recognise the significant value and benefit of nature-based solutions across urban developments. The report claims to reveal the scale of positive outcomes which Nature-Based Solutions (NBS) can deliver, as well as the wide range of stakeholders who can benefit from their implementation across cities and urban areas.
In February 2022 the Intergovernmental Panel on Climate Change (IPCC)'s reinforced the urgent need for climate adaptation, highlighting "any further delay in concerted global action will miss a brief and rapidly closing window to secure a liveable future." Many of the risks identified for the UK fall under the direct responsibility of the built environment, such as heat stress and flooding. The accelerating impacts of climate change highlight the critical need for greater levels of adaptation and mitigation across the built environment.
According to the report, NBS offer an adaptation approach for our cities and built environments to become more resilient to the impacts of climate change. However, delivering NBS at scale will require both public and private funds to be committed at increased levels. To date, the majority of global finance for nature has been provided by the public sector, coordinated by national and local governments. In the UK a £976 million spending gap has been identified for the provision of accessible green (and blue) spaces. Greater support from the private sector will therefore be critical to bridging the finance gap for adaptation.
Launched today, The Value of Urban Nature Based Solutions, reveals the significant scale of benefits that NBS can deliver across developments and communities, as well as guidance to support built environment stakeholders to overcome current barriers with communicating the true value of NBS.
This report outlines an approach to successfully integrate NBS into the built environment. It includes a suggested framework and a range of innovative mechanisms and examples to effectively make the case for and assess the value of NBS. It presents a simple benefits analysis approach to help users define the benefits and value that they can draw from NBS, supporting them to develop their own business cases for investment, delivery, and maintenance of NBS, to further mainstream its consideration across industry. Through taking a holistic view of NBS, the approach outlined within the report demonstrates how the benefits of NBS can stretch far beyond their primary purpose and can benefit a broader range of stakeholders than initially expected.
It is primarily intended that UKGBC's guidance will be used by decision makers in the built environment, such as developers and asset owners. In addition, members of design teams can use this information to support the case for NBS on a project level. This includes sustainability consultants, ecologists, and landscape architects. It will also be useful to local authorities with an interest in adaptation strategies and green infrastructure. Finally, financial institutions such as investors and lenders will find this report useful.