June 8, 2017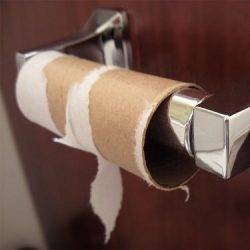 Most FMs would tell you that the state of the workplace toilets is often one of the main determinants by occupants on how well the facilities department is doing its job. So it's disturbing to learn that according to a new survey a significant number of employees have cause to complain about the state of their workplace toilet facilities. The research, carried out by the Association of Plumbing & Heating Contractors claims that 16.5 percent of people are unhappy at work due to the condition of their employer's toilets which is having a negative impact on their levels of engagement. Their research found 43.8 percent of the people surveyed felt their workplace toilets needed to be better maintained. And when asked if their workplace toilets require updating or refurbishing, 44.4 percent said they did. London seemingly has the worst workplace toilets with 50.9 percent of workers surveyed believing they need to be better maintained and require refurbishing.
Most alarmingly, 16.5 percent of workers stated that the current condition of their workplace toilets negatively impacts their happiness at work. This figure rises to 20 percent in Wales and to 20.9 percent in the South-East of England.
John Thompson, Chief Executive of APHC, commented: "There are too many employers who are seemingly neglecting the up-keep and maintenance of their toilet facilities. Employers have a legal requirement to adhere to. The Health & Safety Executive state that where it is reasonably practicable, employers have to provide adequate toilet and washing facilities for employees. In 2010, a businessman was fined £30,000 because he failed to ensure that his premises were equipped with clean and functioning toilet and welfare facilities.
"However, over and above all legal requirements, employers have a moral duty to provide clean, safe and well maintained toilet facilities.
"From a commercial point of view, investment in employee well-being is crucial for a business in order to be successful, as an unhappy workforce can cost employers dearly in reduced productivity, low quality levels, increased sick-leave and in staff turnover with the recruitment and training of new members of staff."
Specific responses from the survey about the poor state of workplace toilets included there being bad smells, cracked tiles, broken toilet seats, toilet bowls, sinks and taps, poorly flushing toilets and tired and dirty decor.
APHC, which surveyed over 1,000 workers in England and Wales asking about the condition of the toilets at their place of work advises any employer planning substantial repair work or a toilet refurbishment to seek advice from a member of a professional membership organisation, to obtain at least three written quotes for the work, to speak to previous customers about their experience, to agree all costs before starting, preferably with a works contract in place, and to never pay for the entire job upfront.