September 25, 2015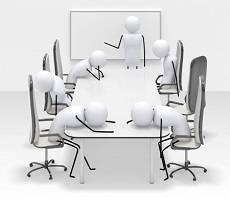 If you've sat through meetings where half the participants pay more attention to their phone than the people in the room you're not alone. A recent YouGov study commissioned by arvato UK found an 'always on' culture and raft of distractions at people's fingertips mean an average 33 percent of workers confess to checking personal emails, social media or sending personal SMS messages during meetings. An astounding six percent of workers find it such a struggle to stay focused they even take naps during meetings. And despite new technology causing a distraction, old technology also plays a role in meeting efficiency, with almost half of workers (45 percent) experiencing delays and interruptions due to IT issues. A lack of discipline and poor adherence to best practice processes is another challenge, with 43 percent of UK employees regularly experiencing meetings that start late or overrun.
Those in London are the most susceptible to distractions, and men are more likely to engage in other activities during meetings. For example, the data shows that Londoners are over 50 percent more likely to send personal emails in meetings when compared to the North (35 percent vs. 22 percent), and men are nearly twice as likely to check or send private SMS messages than their female counterparts (32 percent vs. 19 percent).
Almost a third (31 percent) of workers regularly attend meetings without a formal agenda, and 36 percent also admit that their meetings aren't followed up with minutes or actions, resulting in an undefined meeting output. Approximately 14 percent regularly have meetings cancelled or rescheduled at the last minute, causing further interruptions and delays which reduces productivity.
In response to an open-ended question on what annoyed them most about meetings, respondents frequently mentioned having to travel long distances, meetings scheduled to take place over lunchtime, needless repetition and digression, and people who love the sound of their own voice.
One commented: "The most annoying thing is other people monopolising the meeting for an ego trip". Another disgruntled employee complained: "They are generally a waste of time, people turning up late, broad agendas and few decisions made."
Commenting on the findings, Debra Maxwell, CEO, CRM & Public Sector UK & Ireland, arvato, said: "The UK has a well-documented, long-term productivity problem. While many of the causes behind this are structural, it is clear that in day-to-day business, employees' time is wasted due to a lax meeting culture."
"Some of these examples, like napping in a meeting, are extreme. But if we all change something about the way we hold meetings – for example sticking to agendas, or allowing people to dial in rather than making them travel long distances for meetings – then these small things could make a big impact on overall productivity."