February 20, 2020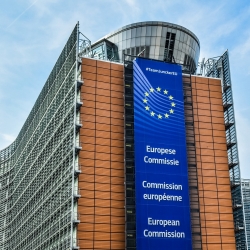 The European Commission has put forward a strategy to promote the development of AI and robotics while putting people first and defending European values and rights. The strategy acknowledges that AI can open up new opportunities for businesses and bring solutions to challenges such as climate change. However, it aims to address the social, legal and ethical impact of new technology.
"Digital technologies considerably improve our lives, from better access to knowledge and content to how we do business, communicate or buy goods and services. The EU must ensure that the digital transformation works for the benefit of all people, not just a few", the Commission said in a statement. "Businesses should benefit from a framework that allows them to start up, scale up, pool data, innovate and compete with large companies on fair terms. Society should benefit from social and environmental sustainability, and a secure digital environment that respects privacy, dignity, integrity and other rights."
On environmental sustainability, the Commission expects data centres and telecommunications technology to become more energy efficient, use more renewable sources and become climate neutral by 2030.
Public consultation
To help shape its policies, the Commission has launched a public consultation on how to maximise the benefits of AI while building trust and managing risks. This seeks views on a future EU legal framework, which the Commission says will focus on high-risk AI systems such as in health, policing or transportation, while avoiding unnecessary burdens that would hinder innovation.
To prevent breaches of citizens' rights, "high-risk AI systems need to be certified, tested and controlled, as cars, cosmetics and toys are".
"The European Union is and will remain the most open region for trade and investment in the world, but this is not unconditional. Everyone can access the European market as long as they accept and respect our rules", the Commission said.
In particular, the Commission wants to see a "human-centric approach", meaning that AI systems should respect fundamental rights. For example, biases in AI systems used for recruitment could lead to unjust outcomes, which would be illegal under EU discrimination legislation. To prevent breaches of citizens' rights, "high-risk AI systems need to be certified, tested and controlled, as cars, cosmetics and toys are". For lower-risk AI applications, the Commission envisages a voluntary labelling scheme to recognise businesses that apply higher standards.
A recent report from the UK's Committee on Standards in Public Life has also expressed concerns about lack of openness, lack of accountability and data bias in AI technology.
Relaxing some rules
Facial recognition technology poses particular risks, the Commission warns, so allowing facial recognition is currently "the exception". The consultation paper seeks views on whether further exceptions should be allowed in the future.
The paper also proposes making some data available across the EU for businesses and governments to share, subject to personal data protection, consumer protection and competition rules.
The Commissioner for Internal Market, Thierry Breton, commented: "Our society is generating a huge wave of industrial and public data, which will transform the way we produce, consume and live. I want European businesses and our many SMEs to access this data and create value for Europeans – including by developing Artificial Intelligence applications."
Facebook's CEO, Mark Zuckerberg, visited Brussels on Monday, ahead of the strategy's launch, to discuss the plan with the EU's digital chief, Margrethe Vestager. Despite tech firms' concerns about increased regulation, he used an article published by the Financial Times at the weekend to call for greater oversight to help build public trust. "People need to feel that global technology platforms answer to someone, so regulation should hold companies accountable when they make mistakes", he wrote.
The consultation is open until 19 May and draft legislation could follow by the end of the year.
Image by Dimitris Vetsikas