February 8, 2017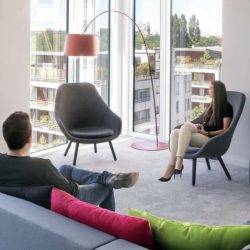 BRE and the International WELL Building Institute have published a joint briefing paper outlining how certified BREEAM credits could be used to demonstrate compliance with the WELL Building Standard (WELL) post-occupation. Following the 2016 announcement of an agreement between the two organisations to 'pursue alignments between WELL and BREEAM', the document, Assessing Health and Wellbeing in Buildings, has been created to make it easier for those wishing to obtain both a certified BREEAM rating and a WELL Certified rating. The document claims to provide guidance on how the process for pursuing dual certification may be streamlined, and offers information for architects and designers to better understand the requirements and how the two standards relate. It also sets out the areas where WELL requirements are addressed by UK and/or EU regulations, and where these can be omitted from an assessment for buildings undergoing a WELL assessment in these territories.
BREEAM and WELL are both evidence-based systems that 'have best practice, continual improvement and the interest of both the environment and people at their heart'. Certification under both systems is pursued through the submission of project documentation and on-site post-occupancy performance testing.
The publication of the briefing paper comes at a time when corporations as well as the real estate industry are increasingly looking at how the built environment impacts human health as well as sustainability.
Alan Yates, BREEAM Technical Director, said: "The document will allow clients and design teams to use the same evidence in both schemes. When you need or want both certification schemes, this document will guide project teams on the most efficient way of going through the process. They won't need to duplicate evidence or calculate things in different ways, as approximately 35 % of credits are equivalent or aligned in some way. This will ultimately reduce the burden of assessing both schemes."