April 24, 2015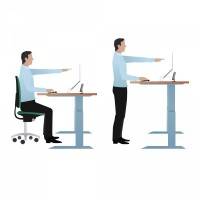 A new 12 month study into the application and effects of working with standing desks has been announced by the University of Chester in conjunction with Virgin Media. However it's a pretty small scale model – at just one site and presumably with a limited cross section of the general population. It will involve the participation of two groups of 12 agents at Virgin Media's contact centre in Sheffield. The research will be led by John Buckley, Professor of Applied Exercise Science at the University of Chester, with the aim 'to uncover the impact of a less sedentary working environment on health, wellbeing and productivity.' The two groups of agents involved will take it in turns to spend six months each using adjustable sit-stand desks and staying on their feet for a minimum of two hours daily.
There are a growing number of reports linking predominantly sedentary working with a range of health problems including heart disease, musculoskeletal disorders and diabetes. The research team will perform ongoing tests to determine the health and productivity benefits and the results will inform future ways of working and the physical workplace environment within Virgin Media. Virgin Media is also making a number of sit-stand desk units available at various sites across the country for employees to trial.
John Buckley, Professor of Applied Exercise Science for the University of Chester, explained: "The simple act of standing for even as little as two hours per day can increase muscle activity to have a significant impact on health and wellbeing. This unprecedented study with Virgin Media will allow us gain a more comprehensive understanding of the benefits working on your feet can have on health and performance."
Maurice Daw, Chief People Officer for Virgin Media, commented: "We are always looking for new ways to improve our people's health and wellbeing. The results of previous studies are impressive and we are looking forward to working with the University of Chester to explore the longer term benefits achieved from this way of working."
The standing desks have been supplied by Posturite.