November 13, 2017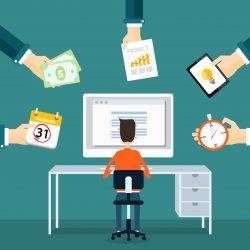 Data published by HSBC claims that flexible and remote working practices are more likely than financial incentives to motivate staff and ultimately increase workplace productivity. A study of British businesses and employees found that nine in ten employees surveyed (89 percent) consider flexible working to be a key motivator to their productivity levels within the workplace – a view shared equally among male and female employees (87 percent and 90 percent respectively) – and more so than financial incentives (77 percent). Alongside this, 81 percent of workers who can work remotely believe this opportunity helps them to improve their productivity, making a clear link between flexible working cultures and increased business productivity levels.
Regions where flexible working is more popular, such as London (where 30 percent of workers have the option) and the South East (32 percent), generally see the highest levels of productivity in the UK (where productivity, as defined by the ONS, is calculated as output per worker or output per hour worked ). In contrast, only 18 percent of employees in Wales, where productivity levels are lower, are offered the opportunity to work flexible hours – suggesting that companies providing a better work life balance may be paving the way for a more productive workforce as employees feel more motivated.
The most productive sector – the professional services industry – is the most likely to offer employees flexible hours, with 36 percent of professional services employees saying it is available to them. Whereas, in the retail, hospitality and leisure industry, where one in four workers (24 percent) are not offered benefits or perks of any kind (including flexible working), productivity is lowest. In Q2 2017 output per hour stood at just £23.00 in this sector (significantly lower than the national average of £32.20) while the sector with the highest output per hour, professional services, had an average of £68.10 per hour.
The study also highlights a disparity between the working style options employees believe to be most motivating and those that they are offered – as the vast majority of employees who are currently offered flexible working believe it motivates them, yet less than a third (30 percent) of business offer it. The deficit is most apparent in the manufacturing industry where nearly all employees currently offered the benefit (91 percent) believe the opportunity to work more flexibly would improve their motivation and productivity at work, yet less than a quarter (23 percent) have the option.
Far from being an attitude associated only with younger workers, flexible working is valued most by 35-44 year olds of whom 59 percent value the opportunity 'a great deal', compared to just 47 percent of millennials (under 35s). Suggesting cash isn't always king, good workplace culture was cited as being crucial to improving workplace productivity, while more than half of employees (53 percent) believe work they find interesting boosts their productivity levels. Furthermore, almost one on five (18 percent) employees cite poor work life balance as a reason for leaving their last job – a problem many companies could address with flexible working.
Image: Wikimedia Creative Commons