June 6, 2018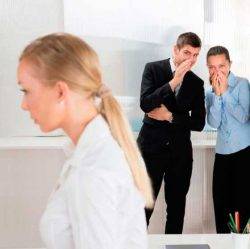 One in 10 women blame workplace banter for causing mental health issues and are twice as likely as men to have been negatively affected by workplace banter, according to a new report by The Institute of Leadership & Management. Banter: Just a bit of fun or crossing the line? found that more women (twice as many at 20 percent) were made to feel less confident than their male colleagues due to the negative banter they experienced and 10 percent of women said banter has had a negative impact on their mental health, compared to just three percent of men. The survey also revealed that those at the mid-way point in their careers (31-40 years) are most affected by banter. This age group reported loss in confidence, drops in performance and poor mental health due to experiencing negative banter. They also said they avoided work situations and skipped work socials. The findings showed that over a third of graduate trainees have been left embarrassed by banter and people (over 1 in 4) in their first job are more likely to avoid work socials than any other group as a result of banter.
Nearly two thirds of men (65 percent) said they were more likely to initiate banter with themselves as the subject of the joke but they were also more likely than women to directly challenge the behaviour (73 percent vs 55 percent) if they felt it crossed the line. Age also makes a difference with almost three-quarters of older staff or those in more senior positions (79 percent of senior managers) being more likely to challenge or report inappropriate office banter than their younger or less senior colleagues. The report also ranked the topics of banter, with age rated as the most common topic for 71 percent of respondents.
There were also a number of areas considered out of bounds – with the most inappropriate topic being medical issues / mental health (68 percent). Despite the perceived negative effects of banter, 73 percent of respondents wouldn't ban it in the workplace (only five percent would ban it). Over two-thirds of men and 56 percent of women said they used banter to get to know their colleagues better. Almost three quarters (74 percent) said their organisation didn't have a policy on banter or didn't know if one existed.
Kate Cooper, head of research, policy and standards at The Institute of Leadership & Management, said: "Our research clearly shows us that workplace banter is a part of everyday life that can have a positive effect on team spirit and creates a fun work environment.
"It's an important part of our work culture. However, it can still have damaging effects on performance, confidence and mental health when it crosses the line and is used inappropriately. Our findings even revealed that one in 25 people left a job because of negative banter, which in turn creates additional costs for recruitment – the cost of hiring a new member of staff can rise to as much as approximately £30,000 for some senior workers, which can become an expensive problem if more and more staff leave because of this issue.
"Getting the banter balance right is tough, so it's important employers recognise the serious impact it can have and put robust measures in place to make sure banter is kept within appropriate boundaries. We spend such a large part of our life at work, so we need to enjoy it without making it hard for others!"
Rajiv Joshi, Partner at Blake Morgan LLP, added: "We all want to feel comfortable in the workplace and get on with our colleagues, and sometimes light-hearted office banter helps create a positive, welcoming environment – but, as this research shows, there's a line to be drawn. What employees and employers need to be mindful of is that unwelcome comments at work aren't just 'a bit of banter' we can easily dismiss but can sometimes form the basis of a legal claim.
"Having (and properly publicising and applying) policies on bullying, harassment, equality, diversity and inclusion is critical for employers who can be held liable for the actions of an employee. Above all though, we should all be doing our bit to tackle discrimination and create a positive and inclusive work environment."
The Institute of Leadership & Management surveyed more than 1,000 of its members on their experiences of banter in the workplace to assess whether it was a force for good or bad in a working environment. Click on the link to download a copy of Banter: Just a bit of fun or crossing the line