April 19, 2018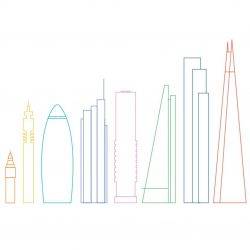 The number of skyscrapers being built in London has exceeded 500 for the first time, raising fears of further damage to the capital's skyline. There are 510 towers of more than 20 storeys under construction or in the planning process, more than ever before. That is a rise of 12 per cent on a year ago, according to the annual report by GL Hearn, the property consultancy, and think tank New London Architecture. A record 115 towers are already under construction, up from 91 in 2016, but the number of applications is down by 10 per cent, according to the study.
Although more office buildings are being approved and built, the report cites the 'Build-to-Rent' sector as the key factor in the growth, especially in London Boroughs, citing data from Estates Gazette which shows that 30 percent of the proposed schemes in 2017 were Build-to-Rent compared with none in 2013.
Predictions in the previous year's report that record numbers of applications were unlikely to continue seems to have materialised. Political and economic uncertainty, mainly due to Brexit, appears to have had a small impact. The rate of applications is down 10 percent from 2016 and 35 percent from 2015, although this was a 'bumper year' due to the application of Greenwich Peninsula for over 40 tall buildings. If you take this away the number has been relatively consistent since 2013, according to the report.
The demands on construction have also played a role as the survey indicates that delivering towers has become more challenging with only 18 tall buildings completed in 2017, representing a 30 percent drop from 2016 when 26 were completed. There was also a 2 percent% fall in the number of tall buildings coming out of the ground with work only starting on 40 in 2017.
Almost a third of the entire pipeline is in Outer London, in zones 3, 4 and 5, particularly in Opportunity Areas and around transport connections, which are considered suitable locations for tall buildings in principal. This includes places like Croydon where the world's tallest modular tower is under construction.