September 25, 2020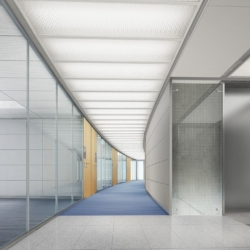 Lambert Smith Hampton (LSH) has published the results of its annual Total Office Costs Survey (TOCS), claiming that the average outlay of occupying office space in the UK fell by 1.3 percent over the 12 months to June 2020 for new build accommodation and 1.6 percent for 20-year old buildings. This is only the second time costs have fallen in the survey since the global financial crisis in 2008 and contrasts sharply with the 3.6 percent increase in costs in 2019.
According to the findings, the main drivers for the overall drop in average costs were attributable to items such as furniture and insurance, rather than an actual decline in net effective rents, which actually increased by 0.8 percent in the year to June 2020, compared with 0.1 percent average growth recorded in the preceding year.
While total costs fell slightly on an average basis, there were notable contrasts between specific locations. With regard to new buildings, only three of the 54 surveyed locations saw growth in excess of 2 percent over the past year. Oxford saw the sharpest increase, with occupier costs rising by 6.4 percent, followed by Manchester (3.9 percent) and Cambridge (2.4 percent).
In each of the above cases, upward shifts in prime rents for office space were at the root of the overall increases in cost. In Oxford, the arrival of the Jam Factory, a high quality refurbishment in the city centre, propelled prime new-build rents to a new high of £47.50 per sq ft in 2020, a jump of 19 percent on the previous level.
Meanwhile, at the other end of the scale, five locations saw total occupier costs in new buildings slip by over 4 percent over the year to June 2020. Notably, the main fallers were all located within Central and West London, with downward movements driven by a softening in headline rents and/or rent free incentive packages due to a relative abundance of supply.
"We may well see fluctuations in rental levels in due course driven by an increased volume of surplus space."
The prime core of London's West End remains the UK's most expensive office location, with the annual cost for an office space in Mayfair standing at £18,877 per workstation, 139 percent above the UK average and 58 percent ahead of next most expensive location, the City of London.
Cambridge remains the UK's most expensive location outside London, having moved ahead of Maidenhead in 2019. The renowned university city has seen several successive years of strong rental growth, with annual costs in a prime new building amounting to £9,350 per workstation.
Oliver du Sautoy, Head of Research at LSH, said: "While the fallout from COVID-19 severely impacted the UK economy during the first half of 2020, it is yet to be clearly reflected in occupancy costs. However, the market is moving into a period of possible contraction and so we may well see fluctuations in rental levels in due course driven by an increased volume of surplus space, or 'grey space' coming back to the market.
"In the near term, occupancy costs for buildings both new and old may reduce on the back of lower demand, reflecting reduced headcounts and surplus tenant space hitting the market. However, with greater acceptance of flexible working post lockdown, a growing occupier focus on quality over quantity in the future indicates that cost reductions will be most clearly seen for older, secondary office buildings."
Ryan Dean, National Head of Office Advisory at LSH, added: "Given that most businesses' priorities are primarily focused on maintaining cash flow during this challenging period, office costs are going to come under increasing scrutiny. TOCS is a fantastic tool to help identify potential cost savings across a range of metrics and will be particularly useful for those occupiers who are either approaching a lease break or expiry and are no longer tied to a particular location following the shift to more flexible working patterns post-lockdown."
Image by Peggy und Marco Lachmann-Anke