September 26, 2020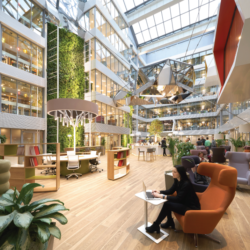 Some things will never change. IN Magazine continues to offer the best content you can find on the changing world of work. The digital edition of Issue 3 is now available and print copies will be posted out later in the week.
In this issue, we talk to Cary Cooper and Sarah Norgate about flexible working and wellbeing. There's commentary from Emily Webster, Tim Oldman and Julien Lesaicherre on a range of workplace issues. We look at how a particular Dutch mindset has shaped the way we think about work. We explore how the aftermath of the Second World War changed the conversation about people and work.
We look at the brief history of the most talked about smart city project on the planet and why it was pulled at the height of the pandemic. We visit a firm in Moscow that was ahead of the game when it comes to a new form of office and also how the Russian capital responded to lockdown. We explore the quest for the numbers that define the optimum numbers of people in groups.
We examine the history of the coffee house and what it tells us about the role of the office. And we consider why we often have our best ideas when moving between places, not while we're in them. All that and the usual round up of projects, ideas, events and product news.
[nbz-inline-newsletter]