February 15, 2022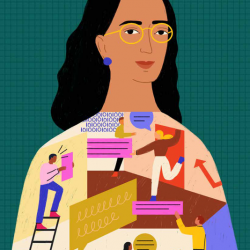 The physical office remains vital for nurturing friendships, and supporting a diverse and inclusive workforce, according to O.C. Tanner's 2022 Global Culture Report which analysed the perspectives of over 38,000 employees, leaders, HR practitioners and executives from 21 countries around the world, including over 2,500 from the U.K. Around two thirds (63 percent) of U.K. workers admit that it's more challenging to form new friendships with colleagues when working remotely, and 58 percent of workers state that the office is where most of their new friendships are formed.
Nurturing a diverse and inclusive workforce is also easier when people are face-to-face rather than remote working, with 71 percent of U.K. workers admitting that it's easier to make personal connections with other generations when in the office. The same number state that they're more able to make friendships with people of different backgrounds and beliefs when working in an office environment.
"As more organisations provide their employees with the option to work remotely, it's important that the office doesn't become redundant", says Robert Ordever, MD of workplace culture expert, O.C. Tanner Europe. "The office is key for creating and nurturing personal connections, and enabling employees to more easily form relationships with people of different backgrounds. These relationships and interactions enhance the employee experience, deepening ties between peers, leaders and organisational purpose, while ensuring a more inclusive culture."
In fact, by using the office to increase employees' social connectivity, engagement increases by 42 percent.
The research also highlights the importance of unplanned office encounters with colleagues, with 71 percent of U.K. workers saying that they value these random interactions. As remote working requires interactions to be purposeful and planned, O.C. Tanner suggests that the lack of spontaneous encounters when full-time remote working can be detrimental to both the employee experience and the organisation as a whole.
Ordever adds, "The office has an important role to play, facilitating networking, nurturing friendships and bringing diverse people together. It's also vital for those memorable, unplanned experiences that foster a sense of workplace culture, collaboration and innovation."