November 18, 2015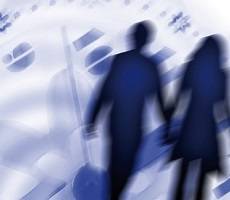 Three in four workers in Britain do not believe it is possible to have a successful part time career, yet new statistics by flexibility experts Timewise shows that there are now an estimated 680,000 workers who are working formally part time in the higher income bracket (earning a minimum of £40,000 full time equivalent). And of these, 230,000 are men and 450,000 are women. The figures were unveiled as part of the publication of the fourth Power Part Time List – in association with Management Today, which lists the UK's top 50 men and women who work in senior, business-critical roles, all on less than full time hours. This includes a record number of men – 11 out of 50, including the highest number of male nominees since the list's launch in 2012; including part-timers from businesses such as – Dixons Carphone plc, leading advertising agency AMV BBDO, famed architecture practice EPR Architects, the Bank of England and EY.
The list is compiled annually by Timewise co-founders Karen Mattison MBE and Emma Stewart MBE, to create more role models, debunk the myth than you cannot work a top level job on a part time basis and change the conversation from what is perceived as impossible when working flexibly, to what is possible.
Karen Mattison MBE, Joint CEO, Timewise, says: "Part time working has reached a tipping point, and this year's Power Part Time list is testament to this – with more entries than ever and – crucially – more men than ever. Part time and flexible working has moved from the sidelines to the centre stage.
The world of work has changed, and our List tells the story of the incredible people who are shaking up the status quo."
Andrew Saunders, Deputy Editor, Management Today, says: "This year's Power Part Timers are an absolute inspiration, remarkable personal stories which prove that the obstacles we place in the way of flexible working are more imagined than real. For as the 2015 list shows, there are very few jobs – no matter now senior or client-facing – which cannot be done on a part time basis."
Across the UK's labour market more widely: 74 percent of part time workers are currently women (6,151,000) and 26 percent are men (2,198,000)3
Overall, the number of men who are now actively choosing to work part time has surpassed the 1 million mark in 2015 (1,050,000).
Lynn Rattigan, Chief Operating Officer at EY, UK & Ireland, said: "It is evident from the examples featured in this year's Power Part Time List that talented individuals in senior roles can and continue to work flexibly. The conversation is now about organisations taking the step to open the door to them and the value they can bring."