November 21, 2018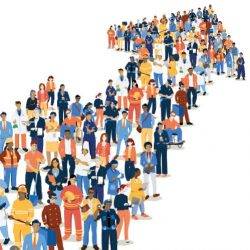 Employers must raise their offering to meet the demands of millennials, as they reach a pivotal time in their careers and demand their employers stand for a purpose. This is according to the 2018 Organisational Wellbeing & Talent Insights Report from Gallagher which finds that to have any impact with this audience, organisations must demonstrate a strong employer value proposition. This is essentially, 'how you want to be seen'; a set of values lived by workers, driven from the top down. The best organisations match these goals by becoming 'destination employers' that are able to win over talent with a more supportive approach. These employers promise and deliver on commitments such as work-life balance and career opportunities, offering their people a chance to grow. The 2018 Organisational Wellbeing & Talent Insights Report offers insights from 12 of Gallagher's thought leaders, on methods to strengthen workplace wellbeing, across physical and emotional, career, financial, and organisational areas.
"The sooner organisations set out on the right path to attract and retain the best talent ? despite a complex marketplace here in the UK ? the quicker they'll reap the rewards of sustaining a dynamic workforce," said Tim Johnson, Chief Executive of Gallagher Benefit Services, UK. "Destination employers are reimagining their total rewards framework and adopting a more humanistic and holistic approach to employee wellbeing ? one that inspires and supports better work."
The report also found that in an effort to eliminate an emphasis on hierarchy in the workplace, many employers have replaced traditional multi-grade pay structures with 'broadbanding': a system wherein there are fewer salary grades, but with broader pay ranges. This is according to which also found that ? despite this being, seemingly, the fashionable choice ? such 'flat structures' actually turn off younger talent. In fact, 91 percent of millennials consider the potential for career progression a top priority when choosing a new job.
Furthermore, whilst 60 percent would like formal feedback on their professional development every one to three months, only 38 percent receive it once a year ? at most.  For millennial workers, assurance of their potential and value at work takes precedence; employees want to feel they have clear career trajectories, in organisations that want to help them succeed; backed by financial compensation that matches their efforts.
View the report here (registration required).