October 31, 2017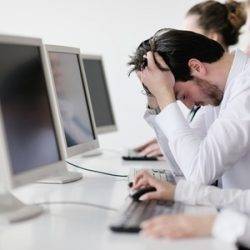 New research released to mark International Stress Awareness Day tomorrow (Wednesday 1st November) has revealed that more than one third (36 percent) of the working population have left a job because of the stress it caused them, according to research conducted by Citation. It claims that  women are almost 10 percent more likely to leave because of stress than men, and those aged between 25 to 34-years old were most likely to struggle with workplace stress. Worryingly, more than half (53 percent) of employees feel too afraid to show signs of stress at work. More than a quarter (27 percent) think it'll make them look weak, one in five (18 percent) worry it will affect their career and the remaining 7 percent feel uncomfortable approaching their manager with the problem. Those aged between 18 to 24-years old were most likely to fear for their career and worry about looking weak. Employees between 45 and 54 were notably more likely to feel at unease approaching their manager.
When asked what caused them the most stress at work, workload came out on top:
| | |
| --- | --- |
| Stress trigger | Percentage |
| Workload | 36 percent |
| Working long hours | 17 percent |
| Managers applying too much pressure | 11 percent |
| Targets | 9 percent |
| Not getting on with colleagues | 7 percent |
| Not getting enough breaks | 6 percent |
Employees over the age of 65 are markedly less likely to get stressed about targets and lack of breaks.
Those aged between 18 to 24-years-old were almost twice as likely than any other age group to get worked up about their colleagues, and people in the 55 to 64-year-old category were most likely to get stressed over long hours.
Others stress triggers given include: low salaries; management being out of touch with workloads; not knowing how to effectively deal with issues; job security; unfulfilling work; workplace gossip; people not pulling their weight; the commute; lack of appreciation and support; temperamental management; unhealthy atmospheres; and lack of communication.
Citation's HR Business Partner, Jenny Ware, commented: "Stress can be a hidden and debilitating problem affecting your workforce. Left un-tackled, it can damage individuals' wellbeing and the performance of your business.
"Stress affects each and every one of us at different times and to different degrees. Recognising when someone has moved from a healthy amount of pressure into a stressful situation can be vital in supporting their wellbeing, and in ensuring the performance of your team."
International Stress Awareness Day is organised by the International Stress Management Association (ISMA) who report that two out of three employees in the UK are afraid to admit that they experience stress.
For more information visit https://isma.org.uk/national-stress-awareness-day