June 7, 2018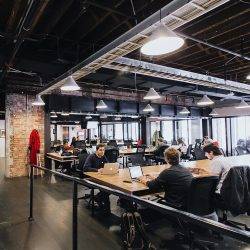 More than half of US based employees (54 percent) with the chance to work remotely say they are most productive when they work outside a traditional office environment, such as at home, in a coffee shop, or in a coworking space, according to a new survey by research firm Clutch. Over two-thirds (68 percent) of workers surveyed work in a traditional office. However, higher productivity isn't the only reason employees prefer other workspace options. Over a quarter (26 percent) of employees who have some degree of flexibility say a better work-life balance is the top benefit of working outside the office. Other benefits include flexible work hours (21 percent) and fewer distractions (18 percent).
These benefits explain why workers not only think they're more productive when teleworking, but also prefer to do so as 62 percent would rather work remotely, claims the report.
Clutch's survey also identified trends related to coworking spaces. Twenty-five percent (25 percent) of coworking space users surveyed say the main benefit of a coworking space is collaboration and creativity. By working alongside people they wouldn't normally encounter, coworking space members get fresh ideas and develop new relationships. Networking and professional growth opportunities are other valued aspects of coworking spaces.
Image: WeWork, Washington DC