July 4, 2017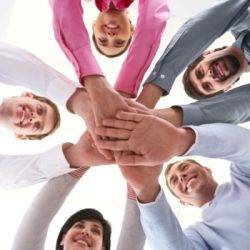 Nearly three quarters (70 percent) of employers say it's healthy for employees to have someone to confide in at work, according to new research, but it claims, 1 in 4 employees would consider leaving the company if their friend left. The totaljobs research which featured responses from over 4,000 employees and 103 employers on the latest trends in workplace relationships and office politics found that two thirds (65 percent) of UK workers are finding 'work spouses' in the office – that one person who they are very close. Although over half of employers (56 percent) say strong work friendships increase productivity and 60 percent of work spouses say their relationship means 'they look forward to going into work', which can help improve staff retention, 1 in 4 (23 percent) say if their friend left, they would consider leaving themselves. Nearly one in 10 (7 percent) go as far as to say that their work spouse leaving the company would be 'like a bereavement'.
It is perhaps no surprise that work socials are encouraged by employers. Three-quarters of employers organise social events, with the most common including the Christmas party (92 percent); meals out (56 percent); celebrating company milestones (contract wins, hitting targets – 53 percent); and drinks (47 percent). A massive 89 percent of employers provide coffee and tea facilities, while 67 percent provide a kitchen with a sitting area and 47 percent provide breakout areas to encourage more conversation.
A significant 60 percent of employers encourage employees to socialise out of work, while in most social events are regularly organised by teams independently – 42 percent monthly and 40 percent quarterly.
A line was drawn in terms of seniority however, with only 24 percent of employers believing it is appropriate for management to be friends with people more junior than them.
John Salt, Director at totaljobs, said: "It is certainly revealing that so many employees relate to having a 'work spouse' and someone they feel they can confide in above others. Our research shows employers recognise the value of strong work relationships, with many already offering social events. The key is to accept work spouse relationships and encourage broader team cohesion. The two do not need to be mutually exclusive: get the balance right, and employers will reap the benefits of a happier, more productive, team."
The research also showed that work relationships are often formed out of facing adversity in the workplace. Half of those (50 percent) with a work spouse admit to being frustrated in their job, compared to only a third (33 percent) who say they are satisfied, suggesting a spouse may be viewed as some with whom frustrations can be shared.
Social Media Etiquette
Social media has led to a blurring of the lines in terms of people's personal and professional lives. 42 percent admitted they communicate with their work spouse via social media outside the office. Facebook is by far the leading social network, with 83 percent saying they add colleagues who are at their level on Facebook, compared to 32 percent who would add them on LinkedIn, 24 percent who would follow them on Instagram, and 19 percent who would message their work spouse out of office hours.
Workplace communication expert Judi James has worked with totaljobs to identify the different types of workplace friendships.  She comments, "The notion of having a 'work spouse' in the office is clearly a growing phenomenon. British people are notoriously hard workers, often working long hours in stressful environments so it is no surprise to see that they find a colleague with whom they can share their frustrations and celebrate their successes.
"Whilst this is perfectly healthy, it can be helpful for workers to understand how these relationships can come to be viewed and how to prepare for the inevitability of their work marriage being broken up when one party heads for pastures new. That's why I have worked with totaljobs to create this guide to enable people to understand what type of relationship they have."