December 11, 2019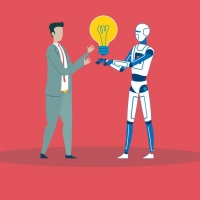 More than half (57 percent) of UK companies are confident their staff are prepared for an artificial intelligence (AI) enabled workspace according to a new report from Genesys. This is broadly in line with the attitudes of workers themselves, according to another report from the company which claims that 46 percent of people say they are ready to work with the technology. The latest  survey claims that over half of employers (55 percent) think their employees are anxious that their jobs will be eliminated by AI. However, employers believe this fear is unfounded with only 11 percent saying AI will actually put jobs at risk. In fact, 51 percent of UK based companies don't anticipate any major staffing changes as a result of AI, despite recent headlines that portraying it as a threat to jobs.
The earlier survey of UK employees by Genesys suggested that the majority of UK workers also believe their jobs are safe on the whole, with 64 percent saying they aren't worried about being replaced by AI. However, those working in manufacturing roles feel significantly more at risk than those working in other areas such as administration, human resources, healthcare, education and transportation.
A majority of companies (68 percent) believe their workforces are excited by the prospect of working with AI because they feel the technology will enhance their roles. When asked about the impact AI has on the way people work, 62 percent of employers believe people are more fulfilled because they are working on more challenging tasks. In addition,  more than a quarter (26 percent) believe it allows staff to become more productive and feel more valuable.  Employees are in agreement, with 64 percent saying new technologies like AI makes them more effective and, allows them to focus on more challenging aspects of their roles.