October 1, 2013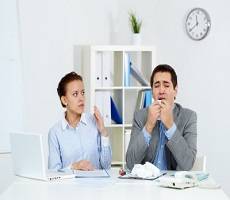 Over half of UK and US workers still go into work when they're sick, according to separate surveys from either side of the Atlantic. The US study by Kimberly-Clark Professional found that 59 per cent of people go to work even when they feel ill; with three in 10 saying it was because they were too important to the business operation. In the UK, new YouGov research on behalf of Westfield Health found that exactly the same percentage (59%) of workers turned up despite being unwell because of work commitments; 82 per cent of employees had worked over their contractual hours in the last 12 months and 64 per cent admitted to feeling stressed at work.
The Big Work Survey of 2,011 UK working adults and 520 senior decision makers across Great Britain found Scottish workers (71%) were the UK's most stressed workforce compared with Wales the least (52%). And colleagues didn't help reduce stress levels, with the top three workers' annoying habits rated as regular lateness (31%), gossiping (27%) and loud talking (26%).
Many of the businesses surveyed acknowledge stress as a problem in the workplace, with more than a quarter (26%) of bosses saying it is a 'common pressure', though nearly all (95%) believe workforce health is important to the success of their organisation.
Nearly half of employees (46%) eat lunch at their desk/place of work, 54 per cent don't take breaks (other than lunch) on a typical day and more than a quarter (29%) reveal they have even missed longer breaks by cancelling annual leave because of work pressures. While one third (33%) of senior decision-makers revealed their business offers flexible working hours, 28 per cent discourage it – though half (50%) of the staff who are offered flexible working say it makes them more productive.
Westfield Health's Executive Director Paul Shires, said: "Things like 'presenteeism' are increasingly being recognised as a contributor to lost productivity and potential health costs for employers, as a result of staff performing below par, feeling unmotivated or making errors due to illness."
"Steps to improve worker health can lead to measurable economic benefits which may be greater than the costs associated with sickness absence, as well as boost morale and improve recruitment and retention."