November 15, 2023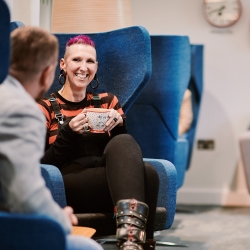 Office workers now spend more time in the office, with the average creeping up to three and a half days per week compared to three days in 2022, according to a new report from international law firm, Gowling WLG. The report, titled Strategic moves: why the office is now a business-critical decision [registration], surveyed senior representatives responsible for making office lease decisions in companies, and a selection of office workers. It identifies that a more permanent approach to office usage is now emerging, as the shadow of the pandemic recedes, as well as demonstrating the changing metrics being applied by occupiers to decisions relating to premises requirements and the more complex environment for landlord asset management.
Social interaction is the main factor driving the return to the office, with more than half (67 percent) stating this as the primary driver. However, although workers now spend more time in the office, only 50 percent spend four days or more in the office per week – leaving buildings below capacity for substantial periods.
Felicity Lindsay, head of commercial development and investment at Gowling WLG, said: "The pandemic has unquestionably changed the workplace. However, we are seeing a clear appetite, both from workers and employers alike wanting some regularity in returning to the office. For the majority of businesses, remote working did not inhibit productivity and it allowed workers to realise a better work-life balance, which they would like to continue and balance with time spent in the office.
"In order to address this, employers must adapt their workplaces and make it somewhere that workers want to go, rather than somewhere they are required to go. Factors such as sustainability and wellbeing are now important considerations and are essential for any working environment, in order to keep them occupied and attract the best talent."
The report also claims to reveal the impact being felt by younger workers (18-24 year olds) with remote working, with just over a third (35 percent) stating that working from an office provides better opportunities for career progression.
Dan Gwilliam, real estate partner at Gowling WLG, added: "Our research is set amongst the backdrop of greater employer demand for employees to attend workplaces more, particularly in the financial services sector. The findings revealed the role younger workers will play in how offices are used in the future, and despite many having not had to work in an office full-time, we know the value they put on working from an office for their career progression. Although a permanent return to the office is unlikely, workplaces must reflect the wants of those working there and give them something more from their workplace."