May 19, 2017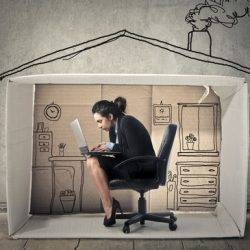 Today is National Work from Home Day, held to promote the benefits of home working, which includes having more time to take exercise and eating more healthily; but new research suggests home workers might risk doing more harm than good if too little attention is paid to ergonomics. The data from Bupa found that over half of those who work from home (51 percent) have sustained injuries, aches and pains as a result of their working environment with the most common being backache and neck pain, which is 10 per cent more likely than those working in a 'traditional' workplace. Not having the right work set-up at home could be the cause, as one in four (25 percent) home-workers do not have a dedicated workspace at home, half (50 percent) of admit to hunching over while working and 40 per cent regularly work from their bed or sofa. All of these factors increase the risk of musculoskeletal injury, with the most common problems being backache (24 percent) and neck-ache (20 percent).
And it is not only physical health that is at risk. Nearly half (47 percent) of workers say they work longer hours when at home compared to their primary place of work, and often longer than stated in their contract. Over a prolonged period this can result in increased levels of fatigue and stress.
However, the study found that working from home does also come with a range of health benefits. The flexible nature of home working means that three in five (58 percent) are able to build exercise into their day, and the same proportion say they eat more healthily. Two thirds (66 percent) say they are able to take regular breaks from their work area, which is good for both mental and physical health.
In general, employers are supportive of home working, and want to ensure their employees are able to work safely and efficiently, 38 per cent of home workers were helped by their employer to ensure they have a suitable home-based workspace. As flexible working can have health and wellbeing benefits, Bupa has created a checklist to support employers and their employees whether they are working from their kitchen table or sofa.
Damian McClelland, Clinical Director for Musculoskeletal Services, Bupa UK said: "Working from home is a flexible benefit which is growing in popularity, however there are physical risks involved if people do not take the same precautions as they do in the workplace.
"Employers ensure their employees have an appropriate workspace at work, if someone doesn't regularly work from home they may not have ergonomic furniture or the correct technology needed to avoid physical health issues, such as neck and back pain.
"All of this which could result in time off work which is why we have created a home-working health checklist."
Bupa's home-working health checklist
Work in a room with adequate light so you don't have to strain your eyes
Sit in a chair where your feet can reach the floor, or are supported by a footrest
Ensure your monitor is at least an arm's length away from you and the top of the monitor is at eye level
Try to use a hands-free phone line and avoid typing/writing with a phone between your ear and shoulder, as this can lead to neck problems
Try to break more regularly than you would in an office as your posture is likely to be worse at home, ideally every 20 – 30 minutes
Make time to stretch out to avoid stiffness, particularly if you spend a long period of time in the same position