April 28, 2022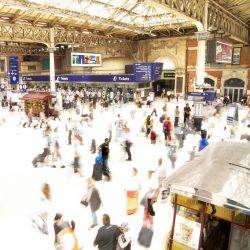 Over two-thirds of UK office workers would consider returning to the office full-time if employers covered commute costs, an Emburse/YouGov poll suggests. The survey of 1,000 British employees, of which 724 worked in an office, were asked questions around their new working preferences in order to understand what the 'future of work' looks like. Around 68 percent said that they would be likely to consider going into the office full time if transport costs to the office were fully covered.
In addition, more than a quarter (27 percent) wouldn't consider coming back into the office full time, even if costs were covered. This is still a high percentage of UK employees preferring to work from home for most or all of the week. However, there's a distinct divide between all age groups according to the poll; with the 35-44 age bracket most tempted by a fully paid commute to the office 72 percent and the least being respondents aged 55+ (67 percent).
When asked to select which days they would be willing to work from the office, the most popular was Wednesday (66 percent) and least popular was Friday (12 percent).
'Proximity bias'  is not a concern for most, according to the poll, but a quarter of employees worry about career prospects. Almost a quarter (24 percent) of those surveyed said they be worried their boss would overlook their career development if they weren't in the office.
The top incentives that would lure workers back to the office full time:
Four-day week (same number of work hours over four days, with a three-day weekend): 59 percent
Fully-paid commute: 52 percent
More paid holidays: 51 percent
Employer-paid lunch in the office: 30 percent

Younger workers (under 35s) are far more tempted by free lunch (48 percent) than the 55+ bracket (17 percent)

Receive reimbursement for lunch expenses: 24 percent

Under 35s are five times more likely (40 percent) than those ages 55+ (10 percent) to be swayed by the opportunity to expense their lunch

Paid childcare on work days: 14 percent

Paid childcare speaks to the 35-44 age group unsurprisingly, with (34 percent) saying this would make them consider returning to the workplace full time, significantly more than other age groups (23 percent for under 35s and 8 percent for 45-54s)