April 28, 2017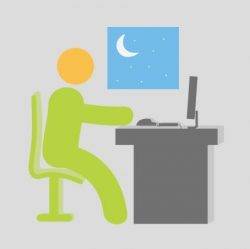 Employees coming into work when sick are contributing to a rising trend of 'presenteeism' across the UK, with more than half (52 percent) of UK workers admitting to going to work when their performance is negatively affected by work-related health issues, a new survey claims. A third (34 percent) of workers have even considered moving jobs due to the negative impact of their work environment on their health – the highest percentage across Europe. The report from Fellowes, published to coincide with World Day for Safety and Health at Work, argues when a worker is present but not able to perform their function properly, it compromises their productivity. With most employees continuing to work at sub-par levels rather than taking days off to recover, this also prolongs the effect of illness. Subsequently, businesses are experiencing a detrimental knock-on impact on the quality and volume of work produced, with a further impact on overall business performance.
The research, based on responses from 4,000 employees and 500 business leaders across Europe,  shows that the UK is amongst the worst affected in Europe, with UK employees suffering regularly from backache (34 percent), neck ache (25 percent) and headaches (23 percent) as a direct result of how they are working. In addition, as many as 1 in 5 (19 percent) UK workers highlighted weight problems, and 1 in 10 (8 percent) cited an increase in blood pressure as a result of poor wellbeing at work.
When analysing the cause of these health issues, the lack of awareness about good working practices in businesses becomes clear. The main bad habits UK employees admit to in the workplace include; poor posture when sitting at desks (55 percent), not drinking enough water during the day (42 percent), and sitting for too long without taking a break (42 percent). Worryingly, such health issues are reducing the daily volume of work employees are able to produce, leading to nearly a quarter (24 percent) of employees working extra hours or at the weekend on a regular basis to compensate – risking a reduction in employee engagement levels and further loss of focus in their work.
In the research, senior managers in the UK identified improving morale (51 percent), productivity (50 percent) and creating a healthier workplace (39 percent) as their top priorities, yet, only 39 percent of employees are aware that their employers currently offer health and wellbeing initiatives to address these areas. What's more, almost half (44 percent) of the UK workforce don't think their employers are doing enough to look after their general wellbeing.
Louise Shipley, European Business Team Manager – Workspace Management at Fellowes, said: "Our findings signal serious problems with how organisations are approaching wellbeing and productivity in the workplace. They show a clear lack of awareness around the causes and effects of a presenteeism culture in the office.
With European businesses already losing a staggering €73 billion annually due to absenteeism, employers simply can't disregard the worsening problem of presenteeism taking effect. Happy and healthy employees do better work, and more of it, making the bottom-line impact simply too significant to ignore."