June 27, 2019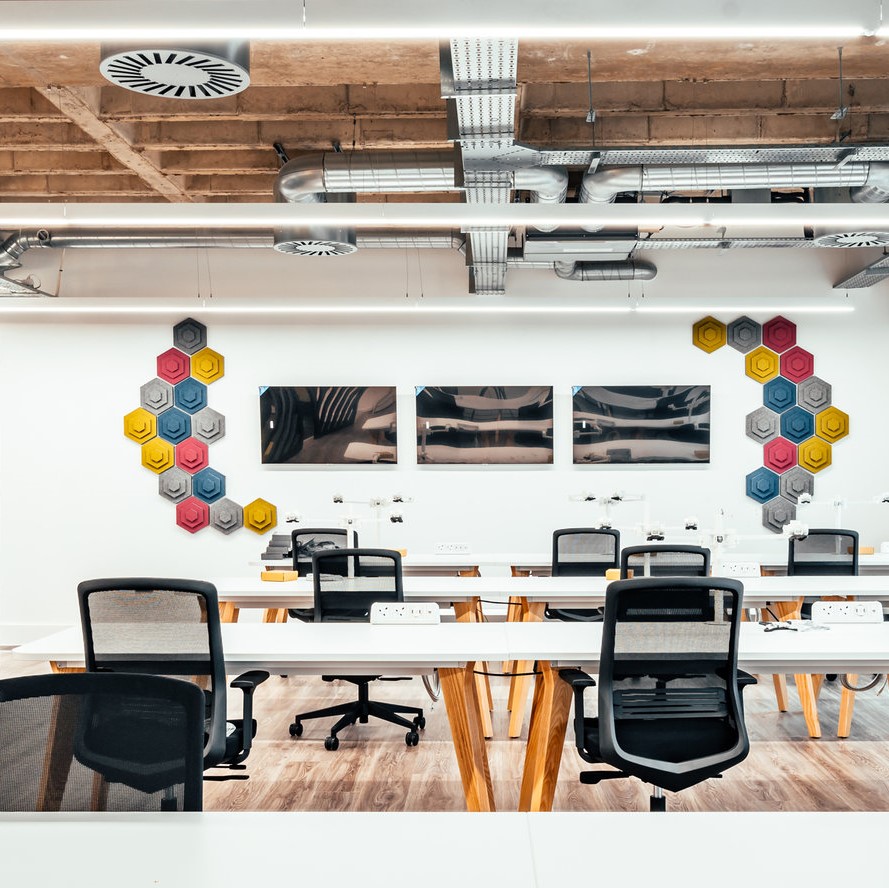 What is it that makes (some of) us bound into work, bright-eyed and bushy-tailed, in the morning? Is it the promise of a proper coffee from the barista-style machine so many modern offices and studios now boast? Or could it simply be the chance to catch up with a favourite colleague? For many, it may be the lure of work itself that gets them out of bed. Few of us will hum merrily on our morning commute, though, contemplating the comfort of our office chair, or daydreaming about taking five minutes to enjoy the calming ambience of the breakout area. A West Yorkshire-based company specialising in acoustic design is making huge strides to change our attitudes about the workplace, though. After all, why shouldn't we feel at home in the office?
It's the reason AgileAcoustics – the long-standing Bradford-based firm with innovation at its core – launched its '50 products in 50 weeks' challenge back in January. The premise? Create 50 acoustic solutions in as many weeks, each one designed to improve the way we work. But we all know how New Year's resolutions usually pan out…
Noise (or rather, too much of it) contributes hugely to how happy and comfortable we all are
Thankfully for AgileAcoustics' hardworking team, the challenge is going well, with the workforce on track to complete its target. "We've already created 25 products" says managing director, Stuart Jones, who founded the company in 2004 and has produced noise and echo-reducing solutions for clients including the BBC, Investec, deliveroo, and Everton FC. The plan is to continue innovating throughout the year and beyond. We're also in the process of moving our headquarters to nearby Salts Mill in Saltaire."
Refurbishing a 5000 square foot mill area that was mothballed many years ago, Stuart and the team will inject some much-needed life back into the space. A former textile mill, Salts Mill now houses an art gallery, shopping centre and restaurant complex. Built by Sir Titus Salt in 1853, it has a rich manufacturing heritage, which looks set to inspire AgileAcoustics further still.
"We're thrilled to be moving to such a great spot. Salts is a World Heritage site and we can't think of a better place to design and manufacture our products than under its Northern Light windows," said Stuart.
The fact is, noise (or rather, too much of it) contributes hugely to how happy (and how comfortable) we all are – and not just in the workplace. You'll know this if you've plodded on in a boardroom meeting, trying desperately to ensure your voice is heard above your colleagues' – and more annoyingly, reverberation. In breakout areas, where employees can take time out to 'relax', echo can be a huge problem, as it can in studio spaces. Or, for that matter, virtually anywhere else with poor acoustic performance.
Acoustic solutions
There are several online surveys that suggest noise in the workplace can actually impact our mental health. Employers everywhere are getting on board with initiatives to ensure a happier workforce – and thanks to AgileAcoustics' suite of products, you can create calming areas reserved for everything from focusing on a project to taking time out.
If they don't feel comfortable at work, people will move on
The AgilePLINTH is one such product which allows colleagues to comfortably transport their laptop to a quieter area of the building to work from their lap. AgileSCREENs help divide workspaces, while AgileART livens up sparse office walls and reduces noise and echo. Of course, all AgileAcoustics' products feature noise-reducing technology, with clients agreeing that they've transformed the way they work.
Making staff more productive and ensuring a happier, more relaxed atmosphere, solutions can feature company logos, or be manufactured in on-brand colours.
There are plenty of other easy wins when it comes to making your office more comfortable – and it doesn't always mean improving its aesthetic. "CEOs must be on board with change," says Stuart, "whether that's switching the way you operate to allow for remote working, or creating quieter areas for colleagues to 'switch off' and recharge ahead of important projects. Employee wellbeing is so important – and all it takes is a few tweaks to create a workplace everyone can be proud of."
The '50 products in 50 weeks challenge has spurred AgileAcoustics on to revolutionise the way everyone works. "Our clients present a problem to us and we come up with a way of solving it" says Stuart, who adds that the team welcomes ideas and insight on how your office or studio might be suffering due to a lack of workplace morale.
The hard truth is this: if they don't feel comfortable at work, people will move on, with research suggesting that acoustic comfort is a key consideration if companies are to retain staff.
Consider how you too can create an office of the future and your existing (and prospective) employees will thank you for it. The Salts Mill refurb should be complete by end of September 2019, so please do call in and visit AgileAcoustics if you are passing.