December 8, 2020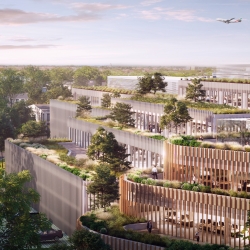 The Commercial Park Group, a partnership between Sir Robert McAlpine and the John Baker Group, has announced it will invest £200 million to kick-start developments of two million sq ft of new offices across locations in the south east of England.
The investment decision signals the Group's continued belief in the long-term need for innovative, modern workspaces which promote health and wellbeing, despite the current trend towards remote working that has accelerated due to the Corona Virus pandemic.
The £200 million investment is designed to fund a series of office developments in Crawley (next door to Gatwick Airport), Haywards Heath and Bromley. The funds will be focussed on delivering first phases across the three sites totalling almost 500,000 sq ft of offices, as well as associated leisure space, gyms, restaurants, gardens and public spaces for the enjoyment of office workers. Planning consents are already in place for first phases of schemes in Bromley (Bromley Park), Haywards Heath (Haywards Park) and Crawley (Gatwick Park). The schemes are being designed and master planned by Urban Infill Architects which has been retained across the entire Commercial Park Group portfolio.
John Baker, Chair of The John Baker Group said: "Even before the pandemic, we were seeing workers moving out of big cities to find a better work life balance and, whilst for many years they were prepared to endure long, uncomfortable and unhealthy commutes, they have been increasingly unwilling to make this trade off. Now, the pandemic has both restricted the ability of people to travel to the office and super-charged workers' re-evaluation of how they want to live and work. It is not possible for us to meet our full potential at work without safe physical spaces that allow us to come together, collaborate and create, but the offices we build have to reflect the needs of workers, both in terms of location and design."
Ian Cheung, Managing Director for Sir Robert McAlpine UK South, said: "We believe that offices are here to stay but future developments need to reflect the changing nature of how people want to live and work. We believe flexibility is important for future working arrangements, including being able to work at home or go into the office as required, and many office workers prefer to come to healthy spaces that provide flexibility in the office amenity"
"Future developments need to reflect the changing nature of how people want to live and work."
As workers increasingly crave a lifestyle that provides a more relaxed pace, with increased flexibility, space and greenery, The Commercial Park Group's developments reflect the idea that companies and office developers need to meet these needs, both in terms of workspace design and by providing modern offices in locations that workers can access easily and conveniently. The Commercial Park Group's developments focus on creating flexible office space to allow companies to configure offices in a multitude of ways to meet the needs of their staff.
Another key principle of the developments is creating extensive green spaces, such as large, ecologically diverse roof gardens, given the proven correlation between green infrastructure and improved wellbeing and productivity. A final principle for the partnership involves a focus on providing leisure opportunities within the schemes to allow companies to create their own balance between productive time and down time to the benefit of the mental health of their employees.
Kate Clark, Director, Jones Lang LaSalle (JLL) said: "One big trend emerging due to Covid-19 is that workers are increasingly clued up on the science of health and wellbeing and that means they value things like air quality, ergonomic design and green space more than ever. As well as meeting workers' increasing demands for more flexibility and shorter, healthier commutes, occupiers also need to provide offices that promote physical and mental health. Developments which focus on these aspects will be the workspaces of choice for occupiers and their employees moving forward. The evolution of office working post-Covid should benefit many of the Greater London and South East satellite locations."
Key statistics
• Less or no commute was the most commonly cited benefit of being able to work from home due to the pandemic. 49 percent – JLL Human Performance Survey March 2020.
• Searches have doubled for homes in small towns – Rightmove
• Offices on the outskirts of London and around the M25 have proved more resilient than all other office sub-sectors in Q3. Over Q3, outer London and M25 area offices posted 0 percent capital growth. All other office sub-sectors saw declining values. It was a similar picture during the quarter for rental values where Outer London and M25 offices rose by 0.2 percent whilst the market overall fell by 0.4 percent – CBRE Monthly Index Snapshot.
Further details on the developments
Gatwick Park phase 1 incorporates the development of two new, grade A office buildings within one of England's premier business locations, the Manor Royal Business District in Crawley. G1 provides 133,000 sq ft of office accommodation and G2 provides a further 68,000 sq ft. Both schemes have planning consent and are being offered to the market either together, to form a single major campus HQ, or individually. Floor plates can also be split flexibility to meet the requirements of businesses of all sizes. Located 10 minutes from Gatwick Airport and less than 10 minutes from the M23 and M25 motorways, and with three train stations on its doorstep making London accessible in only 40 minutes, Gatwick Park is set to benefit from some of the best transport links of any new office scheme in the country.
Bromley Park is similarly set to provide an exceptional office scheme within a borough undergoing major regeneration, and a growth in popularity as a top tier commercial destination due to its exceptional transport links (less than 20 minutes to central London) and the additional space and housing affordability that comes with an outer borough location. The scheme's first phase, which has planning consent already, comprises the demolition of Wells House on Elmfield Road and the creation of an entirely new, 117,000 sq ft office campus which can be offered in its entirety or as separate floor plates to a range of occupiers.
Haywards Park comprises the redevelopment of two buildings on the commercial artery of Perrymount Road, 500 metres from Haywards Heath railway station. H1 comprises 65,000 sq ft of grade A office accommodation whilst H2 will bring forward a further 79,000 sq ft of high quality office space. Both schemes have planning consent and, like Gatwick Park and Bromley Park, they can be let as entire buildings, or the floors can be split to provide flexible space for smaller organisations.