June 1, 2021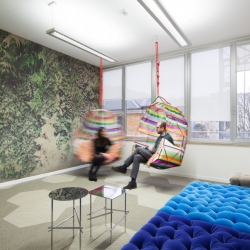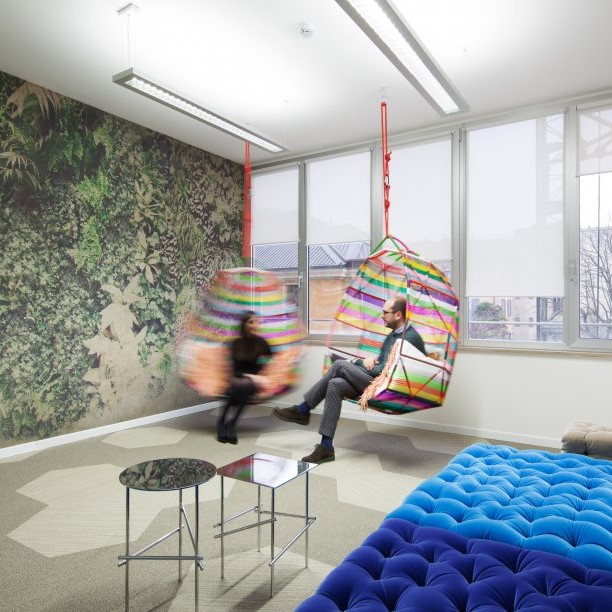 HR leaders, heads of real estate and IT decision-makers have not always spent huge amounts of time working together – their roles and responsibilities have often been siloed. But in the new world of work, that's all changing. These three groups of senior leaders are being asked to collaborate on one of the biggest challenges corporate occupiers, as they try to figure out when and how to return to office-based working and shape the future of work. Failure to collaborate will increase the probability of workplaces having low occupancy rates, low employee engagement and decreased productivity.
Workplace strategy is the biggest challenge facing global companies today, with over a third (35 percent) of those we polled, claiming that devising a strategy for the future workplace is the most significant issue they face. The challenge of developing the right strategy came ahead of other concerns, such as employee safety (16 percent), varied geographic needs (17 percent), space configuration, and timing.
Every region around the world is experiencing the pandemic differently, leading to diverse expectations about what the new normal might look like – and how fast we'll get there. More than half of companies we polled in EMEA expect the new normal to be upon us by the end of Q3 2021, but this figure is much higher in APAC (71 percent) compared to the Americas (43 percent).
As we navigate the post-COVID workplace in real time with our clients, the strategic challenge and how to get to the right strategy for now and for the years to come, is a top priority. When we start to think about office demand and culture, businesses need to consider factors like wellbeing, technology, performance and productivity, as well as hybrid models to create a balanced work environment fit for their teams. More importantly, they also need to consider the interplay of these factors at different times, across different teams, geographies, practice areas and sectors. With all these interconnecting issues to consider, the challenge that real estate, IT and HR leaders face in reimagining the world of work, as well as driving strategies that enable companies to redefine and enhance their workplace culture, is considerable.
Shifting ways of working
Technology will continue to change our everyday lives and this has permeated into how companies are approaching the related disciplines of real estate, IT and HR. HR departments can address the strategic focus on talent, recruitment and retention within a future of work context, while real estate leaders look at how this would be put into action from an office design and facilities perspective. IT is the enabler that brings all of these elements together, providing the platform to enable success.
Each of these disciplines needs to listen to the concerns and ideas of the workforce
Each of these vital disciplines needs to listen to the concerns and ideas of the workforce. Every individual and every team have different preferences and expectations and it's essential to find an approach that works for all, enabling companies to both attract and retain top talent. Our global client surveys suggests that between 80-90 percent of the workforce would prefer to work from home at least 1-2 days a week for the foreseeable future, while 90 percent of employees believe that the office has now become a place for more collaborative and social benefits rather than for "focus work".
The ask from real estate, IT and HR leads is for a workplace environment that fosters a culture of socialisation, innovation and collaboration, as well as an expectation for more seamless technology integration. The return to the office needs to deliver state of the art facilities, amenities and value-adding, contactless technology. Destination Workplaces must be the watch phrase for companies looking to thrive in the new world of work. The physical workplace now sits with 'experience' at its heart.
Common goals
In order to foster greater collaboration and build successful internal relationships, it's vital that department heads of Real Estate, IT and HR find ways to work closely together and set out their roles and responsibilities from the offset, to drive an integrated strategy that addresses the challenge of the future workplace in a fully coordinated way. Depending on the needs of the business, other business functions may be included in this project leadership team, including DE&I, Sustainability, Brand, Marketing, Security etc.
This is a business strategy issue not a simple re-structure or fit-out project
Board-level engagement and sponsorship is a must – this is a business strategy issue not a simple re-structure or fit-out project. Any single department could lead this process, although Real Estate and HR lead most often. Acting as a united team, these three core departments will maximise the probability of delivering relevant Destination Workplaces, fit for the post pandemic era.
To realise the full potential of any workplace focused strategy, a robust and proactive change management programme will be required. The global workforce has had a great deal of previously unplanned change thrust upon it over the past 18 months, from engagement with IT, to homeworking, to evolving management and mentorship. Businesses now have a unique opportunity to truly engage with their colleagues, jointly planning the next evolution of work with their bespoke needs front and centre. This will allow for greater uptake and longevity of any strategies implemented.
Recognising the opportunities that lie within the workplace and fostering greater cross-departmental collaboration between core stakeholder teams will be key to creating the future workplace. The pandemic has pressed fast forward on the world of work, as companies all over the world re-examine and re-address their priorities and adapt to the new normal. It has brought challenges but also opportunity. Those companies that put people at the heart of their workplace strategy will succeed in building a Destination Workplace to empower and retain a happy, productive and motivated workforce.