October 17, 2017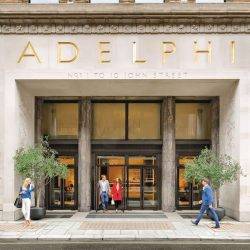 Take up of new commercial offices in London's West End in September 2017 hit the highest quarterly total on record – with tech and media firms, along with serviced office schemes being the most active, according to figures from real estate advisor Savills. The take-up was 857,259 sq ft (79,639 sq m) – bringing total take-up by the third quarter to 1.62 million sq ft (150,498 sq m). Leasing activity in the third quarter of 2017 brings total take-up year to date, to 3.99 million sq ft (370,671 sq m), which already surpasses 2016's total annual take-up (3.97 million sq ft) and places the West End in a strong position to exceed the record 4.3 million sq ft (399,470 sq m) amassed in 2015. Key deals that helped elevate the market included: Aegis pre-letting the entire 310,000 sq ft (28,799 sq m) at British Land's 1 Triton Square; The Boston Consulting Group pre-letting 123,500 sq ft (11,473 sq m) at 80 Charlotte Street and Spotify acquiring 104,133 sq ft (9,674 sq m) at The Adelphi.
Ed Betts, joint head of the West End office agency team at Savills, comments: "Whilst we can't ignore the serendipity of all of these deals happening this quarter, it is a stellar quarter of leasing activity nonetheless and reiterates again what a robust and attractive market the West End is.
"Tech & media occupiers remain the most active as they continue to commit to new offices and expand within our market, yet meanwhile the rate of growth we have seen from serviced office operators – both those that are new to the market and those already established – shows no sign of abating.
"Together these sectors compliment the ongoing desire from professional and more traditional businesses that have long chosen to reside in London's West End."