October 22, 2018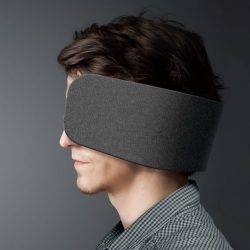 What to make of the announcement that Chengdu is thinking of creating an artificial moon so that it can do away with street lights, bathing the city's streets in permanent dusk? Well possibly a big thumbs up for the ingenuity and maybe thumbs down for the impact on people's circadian rhythms and awareness of what's in the heavens. People really should look up more, both figuratively and literally. Maybe there's also room for a thought about we we can over-complicate designed solutions when we look to innovate beyond a certain point.
That's certainly a criticism that might be levelled at Panasonic's Future Life Factory which has created a set of blinkers for office workers. Originally showcased at an event earlier this year, most of we media slackers have only just picked up on this in the last week, presumably because we've been too busy gawping at screens to notice. It's the kind of solution that would have fitted neatly in to the list of solutions compiled for us recently by Dan Callegari. If nothing else, proving the point that it's possible to overthink things when it comes to creating designed solutions.
[embedyt] https://www.youtube.com/watch?v=pT9wmhh973U[/embedyt]
Misguided thinking about how to design to meet particular challenges is the subject of this really great piece in Fast Company which looks at how inclusive design should be about creating multi-faceted solutions that offer people a multitude of ways to engage with a space.
This should be the guiding principle of modern workplace design, a point touched on by Neil Usher in this typically illuminating look at the most important characteristics of a great workplace.
In other news, it appears that Regus may be suing WeWork for copyright infringement for the use of the word HQ. Yes, really.
Talking of WeWork, and who isn't? The latest Reuters piece looking at how the firm is catalysing a revolution in the commercial property market, highlights how WeWork is now the largest tenant in Manhattan and that office landlords are having to look at their entire business model to adjust to the new era.
Meanwhile, another cohort of landlords causing concerns in the UK are local authorities, who are buying up offices and retail property to create an income that some analysts are concerned will never materialise. There are no  signs of this trend slowing down, as this piece from the FT suggests (registration required), prompting fears that not only will these investments prove fruitless but could be a major financial disaster in the making.
Finally, this wouldn't be a news round up with something about AI. So, as a break from the usual stuff about our new robot overlords, here's a piece which suggests we don't even know what AI is.