February 7, 2018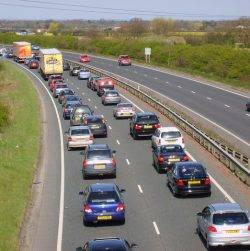 UK drivers wasted an average of 31 hours in rush hour traffic last year, costing each motorist £1,168, a study by traffic data firm Inrix suggests. The UK is the world's 10th most congested country and London is Europe's second most gridlocked city after Moscow, according to the report which claims that overall traffic congestion cost UK drivers more than £37.7 billion in 2017
The analysis of 1,360 cities across 38 countries claims to be the largest ever study of congestion. The UK ranked as the 10th most congested country in the world and the 3rd most congested in Europe. In the UK, the INRIX 2017 Global Traffic Scorecard analysed congestion in 111 cities and towns. London remained the UK's most congested major city for the 10th year in a row, ranked 2nd in Europe after Moscow and 7th in the world overall. Drivers in London spent an average of 74 hours in gridlock during peak hours, an increase of one hour since last year.
This contributed to congestion costing London drivers £2,430 a year each and the capital as a whole £9.5 billion from direct and indirect costs. Direct costs relate to the value of fuel and time wasted, while indirect costs relate to freighting and business fees from company vehicles idling in traffic that are passed on to the household bills through higher prices.
Along with the capital, Manchester, Birmingham, Luton and Edinburgh made up the UK's five most major congested cities. Drivers in Manchester spent 39 hours in congestion during peak hours, and 10% of their total drive time (peak and non-peak hours) in gridlock. This in turn cost each driver £1,403, and the city £345 million. Motorists in Birmingham spent over 9% of their total drive time in congestion last year, costing the city £632 million.
"Combined with the rising price of motoring, the cost of congestion is astonishing – it takes billions out of the economy and impacts businesses and individuals alike," said Dr. Graham Cookson, Chief Economist, INRIX. "With the Office of National Statistics showing more cars on the road than ever before, we need to consider innovative new approaches to solving the issue. Increased flexible working or road charges have potential, however, transport authorities should be looking to exciting developments in data analytics and AI which promise to reinvent our approach to traffic management."