November 13, 2020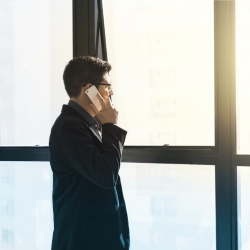 In times of economic stability, entrepreneurs who exude self-confidence are the most likely to thrive. However, when faced with unstable and adverse economic conditions, those entrepreneurs who possess greater resilience are most likely to come out on top, according to new research from Durham University Business School.
The research, conducted by Saadat Saeed, Professor in Management and Marketing at Durham University, alongside colleagues from University of Delaware and DePaul University, surveyed over 1,000 individuals from six countries to investigate the relationships between individual resilience, entrepreneurial self-efficacy and entrepreneurial intention, and compared this to a country's state fragility – defined as the degree to which state power is unable and/or unwilling to deliver core functions and services to the majority of its people.
Individual resilience was defined as the ability to recover and positively adapt within the context of adversity in the pursuit of personal growth, while self-efficacy was defined as the degree to which an individual believes that he or she can perform the roles and tasks of an entrepreneur.
Respondents to the survey spanned six countries, and each country's level of fragility was determined by the Fragile States Index (FSI). Of the six, Iraq and Afghanistan were deemed the most fragile states, Tajikstan and Peru had an average score of fragility, and the United States and Finland were judged amongst the most stable in the world.
The survey results claim that, in highly adverse environments, entrepreneurial self-efficacy is less important than resilience in the intent to start a business, but in stable countries entrepreneurial self-efficacy is the more important trait to possess.
"Many of the world's aspiring entrepreneurs face an unstable economic environment"
Professor Saadat Saeed says: "Many of the world's aspiring entrepreneurs face an unstable economic environment with breakdowns in the rule of law, public services, and security, involving refugees, human rights, terrorism, and war. These create huge boundaries for entrepreneurs and to overcome these, entrepreneurs have to be resilient and adaptable. Whereas for entrepreneurs in more stable countries who do not contend with such boundaries, what is more important is having self-assurance in their business abilities."
The researchers say their findings hold significant implications for global entrepreneurship education and training programs. Similarly, scholars and individuals in less fragile and more stable areas of the world have a lot to learn from their entrepreneurial counterparts who live and operate businesses where high amounts of adversity and state fragility affect their daily lives.
Image by Daniel Reche