August 28, 2018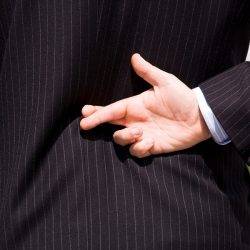 The new corporate governance code that comes into play early next year includes directives on how companies engage with their staff, but it is a voluntary code which will allow businesses to opt out if they wish. Now a new report suggests there is currently is a high level of mistrust towards senior UK managers, with just 16 percent trusting this group, according to the study. This is despite the fact that according to the research, carried out by Virtual College the majority (95 percent) of senior managers in UK businesses believe that their employees trust them. Employees rated their trust in different roles in the following order; co-workers – 57 percent, managers – 45 percent, team members – 42 percent and senior management – 16 percent. Trust in senior management was found to be considerably lower than trust in other positions such as middle management. The sectors that trusted senior management the least included; utilities (3 percent), legal (8 percent) and government services (8.7 percent).
Building a culture of trust in the workplace
Nearly half (44 percent) of employees felt that improving workplace trust would help to improve happiness in their roles. It was found that this would particularly boost staff working in the entertainment (55 percent), healthcare (53 percent), and social care sectors (52 percent).
Improvements in communication (52 percent) and regular catch ups (40 percent) were considered the best ways by employees for management to improve trust in the workplace. Communication from management was also considered particularly important in the education (57 percent) and healthcare sectors (59 percent).
In an increasingly digital world, it comes as no surprise that employees are looking for further communication from senior figures in a business. It is this lack of communication which is likely to have contributed to the results discovered in the research, as employees typically have more regular points of contact with other members of staff and this communication is integral to building trust.
Virtual College commented on the findings of the research, "It can be difficult for businesses to create a culture which is open and trusting. Navigating the different elements of trust in the workplace in a modern environment can be tricky, however the benefits of improving trust can be hugely rewarding to a business. Improving trust can help to boost productivity and employee satisfaction, which both ultimately impact on the performance of a business.
"Our research has also shown that communication is a key factor when looking to improve trust and it is clear that employees are keen to see more interaction with senior management in particular."