October 22, 2015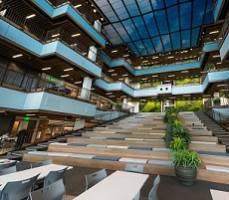 The conversation around office space is shifting. Baby Boomers brought us cubicles, and as millennials joined the workforce, so did the trend of a collaborative, open office. Now, as Generation Z begins to make its way into the workforce, it's more important than ever to make sure that your office appeals to all generations, and more importantly, all work styles. This trend is taking off in companies of all sizes and types. To begin, study the culture, brand, demographics and interactions of employees and you'll find that people want to move throughout the day and change their work setting based on tasks. This can be applied to all organizations on different scales. Providing the right environment for unique tasks has the power to energize teams, reinforce the culture and allow for serendipitous interactions all at once.
Here are seven spaces you too can create for different workstyles:
The Living Room: Informal soft seating sets the tone for relaxed working and an open dialogue. If your industry doesn't necessitate it, many people find they have better meetings without a conference table. Supporting these areas with special features like snacks, coffee, views, art, or a fireplace makes these a desirable destination to meet and work.
Neighborhoods: Open offices are great, but they're best when each person has direct access to the technology and amenities that support the job at hand. Strategically breaking the scale of the open office into 'neighborhoods' allows teams to have individual desk zones surrounded by meeting areas, enclaves, and quiet areas for focused work so employees can be efficient and effective.
A forum: Break rooms and reception areas bring people together naturally- so it makes sense to make these spaces work even harder by utilizing them for all hands gatherings, creating space for a dual purpose.
The library: It's as important to create areas for individual focused work and concentration as it is to facilitate group collaboration. A no-talking policy can help create a quiet zone where your employees can concentrate.
The scrum: Often located on the path of travel between office neighborhoods, scrum areas allow teams to break out and jot down ideas quickly in a rapidly iterative style. Need a quick brainstorm session? The scrum area displays the progress of projects and work flow publicly, inviting others to join in and contribute if they want. Make sure the scrum area is equipped with all the technology your employees need.
Enclaves: Whether you need space for one-on-one meetings or a private phone call, this quiet space with a door is a multi-use workhorse. Enclaves are fit out with soft seating, or tables and task chairs. White board is a must.
A work bar: Regardless of industry and location, a work bar offers individuals and teams an appealing place to spread out and relax. For those who work better in un-traditional settings, a work bar can be the answer- and it's a great opportunity to show off your company's fun side!
__________________________________
Brittney Herrera is Senior Interior Designer at Baker Design Group, a Boston-based design firm that practices regionally, nationally, and internationally.