July 14, 2021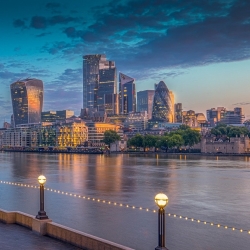 The Mayor of London, in partnership with Nesta Challenges, has announced the winners of the Mayor's Resilience Fund, a £1 million innovation programme set up to support London's businesses and community groups to emerge stronger from COVID-19 and to ensure the capital is prepared for future disruptive challenges.
The winners were declared at the Mayor's Resilience Fund Awards Ceremony, which convened major London city leaders, representatives from each of the start-ups, as well as a range of experts, who shared their views about London's prospects and opportunities.
The Mayor of London identified the ten challenges by working closely with local authorities, public agencies, social enterprises, and community groups across the capital (collectively identified as Resilience Partners). These problems were then put to the city's greatest innovators, who were challenged to use new technologies and creative ways to solve them.
The winners
• Activating High Streets: Sqwyre by Whythawk – A commercial location database supporting research into business properties and contributing to reducing vacancy rates.
• Affordable Workspace: Open-Source Platform for Affordable Workspace Fit Out by Arbeit Project – An easily adaptable fit out model that offers a cost-effective solution for newly built/shell & core spaces or empty premises, aiming to reduce property costs for the end user.
• Public Markets: OpenMarkets.London by Tabled – The project will make it easier to apply for a trading license across London's local authority markets.
• Local Food: Spaze Food Management Platform by Spaze – A cloud-based resource management platform that enables a systemic coordination of all local food stakeholders to effectively manage the supply and demand of food to tackle food insecurity.
• Gig Economy: Finmo – Finmo's solution builds on their existing platform, where they provide software for multi-job workers to track their income and expenses and affordably file a tax return. They will then develop this further to allow gig economy workers to understand their take-home pay and how their net hourly wage compares to the Living Wage.
• Air Quality: HEAL – Healthy Air Quality Impacts in Lambeth by BlockDox – An intelligent solution for Lambeth and other London Boroughs to model and assess health impacts from air quality interventions.
• Renewable Energy: Royal Docks Floating Solar by Renewable Connections Developments Limited – A floating solar array in London's Royal Docks that will provide clean renewable energy directly to London's City Airport, as well as other local customers.
• Smart Mobility: DynamicLink by Kale Collective – A one-stop platform for the on-demand optimisation of freight journeys for operators. Based on the operator's decisions, the platform learns to anticipate and helps with the proactive fleet management, supporting your long-term logistics strategies.
• Bereavement Services: Loss in Translation by Apart of Me – A peer led grief activism project that aims to empower young people from minority ethnic backgrounds to transform their grief into compassion.
• COVID-Safe Travel: The Aubin Journey Planner by JNCTION – A new door-to-door journey planner and companion app which empowers people to travel confidently when using public transport during Covid.
The full list of winners can be viewed here.
Image by Pierre Blaché